Extraordinary Weddings: When David met Nicky
Tonight we see the third and final episode of the ITV documentary series Extraordinary Weddings. The heart-warming series follows six couples who have defied all the odds and overcome huge difficulties in order to make it down the aisle to say "I do". An event that is supposed to be the most special days of every betrothed couple's life, but for some couples, their wedding day also proved to be the most challenging.
In the first episode of the series we watched Carly and Nelly, marry in Newquay, and we followed their journey from her spinal cord injury, right through to the planning of their wedding. And tonight we will be following the journey of SIA member David and his wife Nicky as they tie the knot.
David was on a holiday family in 1999 when he jumped in to a swimming pool and suffered an accident which resulted in him being paralysed from the chest down. David was an active person; enjoying tennis, golf, windsurfing, and skiing, and after his injury he worried whether life would be the same again. After a relationship breakdown and vowing to get his life back on track David signed up to match.com and found the love of his life in the form of the lovely Nicky. Nicky is a wonderful lady, with a passion for life and a creative mind, and both David and Nicky have spoken to us at SIA to tell us about their journey, how they met and life since getting married.
As well as mentoring people with Spinal Injuries, David has delivered many workshops on Funding and Managing Care for the SIA and more recently David has taken on being Chairman and Coach for Gloucester Wheelchair Rugby Club; Principal of Sailability at Whitefriars; and is Treasurer for the Hansa Class UK.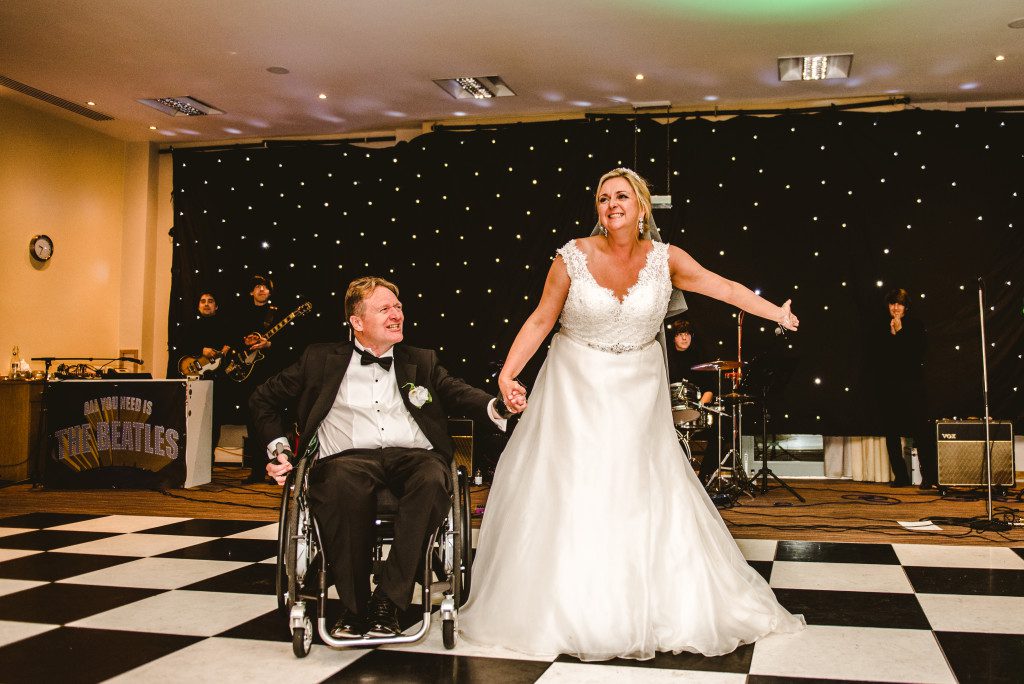 How did you both first meet?
David: We met through a dating site Match.com, but weirdly when we first spoke we discovered that we had actually met 20 years earlier when we worked together for a small marketing agency.
Nicky:  I saw David's profile and was instantly attracted to his gorgeous smile and his interests which were remarkably similar to mine.
What was it about each other that instantly attracted you to the other?
David: Nicky has a beautiful smile, and is incredibly bubbly and good fun.  Conversation was so easy.
Nicky:  He was so funny and easy to talk to.  He is warm, caring and compassionate and also very good looking with a cheeky sense of humour!
At what stage did you disclose your injury, or Nicky were you aware of David's injury?
David: I put pictures of me in a chair on Match, and mentioned it in my profile.
Nicky:  I saw the wheelchair in his pictures on the dating website, but I really didn't think too much of it.  During a conversation a few days later, I asked him about his disability and he told me the story and I asked lots of questions.  He never hid anything from me, but over time introduced me to other aspects of his care and his daily needs.
How did you find dating over the coming months after meeting?
David: We met quite often, going to museums, restaurants, having meals at home etc.  As time went on Nicky learnt how to help me so that we were not dependent on a carer with us all the time.
Nicky:  We spent a lot of time together doing absolutely normal 'date' things, we had a lot in common and it was easy to fill a whole day or an evening together.  I found the addition of an ever present carer very difficult; we spoke about it early on and I knew immediately that I wanted to be involved in David's care so that we could do things together without a third person with us.
How did your lives both change once you got together and began to live with each other?
David: It was fantastic to have somebody with me, somebody to go out with, and to have fun again.  Nicky moved in quite quickly, and we worked together on marketing her wedding stationery business: Millie and Me.  In no time she got involved with the rugby and the sailing; even learning how to rig my boat.
Nicky:  The biggest change was that I moved in with David quite soon after we met but it felt absolutely the right thing to do.  We worked together on marketing my wedding stationery business (www.millieandme.net) and I also learnt to rig David's boat and got involved with his dinghy racing and his wheelchair rugby team!  We realised that living with full time carers living in the house was not going to work for us and so we began to look into alternative options; this took time and needed to be carefully managed.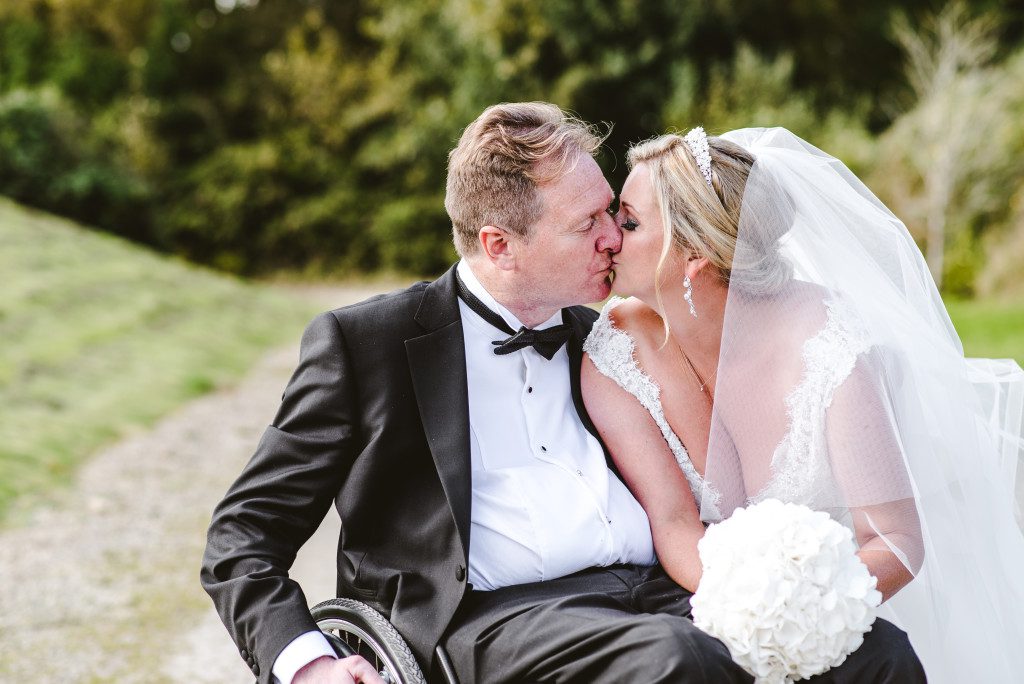 What problems have arisen that have really challenged your relationship?
David:  Care has been the main problem.  I initially didn't want Nicky to do aspects of my care to keep our relationship fun.  It was hard when we had live-in care, because there was always someone else there.  Even when we had part time care, it was hard for Nicky to accept that somebody else had to do such intimate things with me, and to spend so much time taking me to things.  Another frustration has been how my disability limits options for us e.g. going to a spa, travel destinations etc.
Nicky:  Learning to understand David's care needs was hard; I found it very difficult to live with full time care in the house and the dynamics of having a third person around us.  Being in a new relationship brings its own challenges and it was a lot to think about as we found ourselves falling very much in love.  I learnt early on that I needed to plan things carefully and check out accessibility wherever we went, which was (and is!) sometimes frustrating.
Does David's injury affect your relationship with one another?
David:  I get frustrated because I want to be able to help more, and I realise how much Nicky is doing for me, around the house, and when we're away.  It makes it quite hard to do things independently, and for either of us to get a break from each other.
Nicky: Yes, and no!  It doesn't change my feelings for him; I fell in love with him because of his personality, the wheelchair and all that comes with it are just a part of him!  It is sometimes VERY tiring, because David is so active and the days are often long.  We have the help of a carer which gives us both a break, and gives me my own time – and gives David a break from me!  But I do everything because I love him; if he could, he would be doing them for me too.
How did you propose David? Were you expecting anything or was it a complete shock to you Nicky?
David:  I contacted the owner of the restaurant where we went or our first date, and asked him if he would present a ring when he brought the bill after our meal.  I took the boxed tiffany ring with a card a few days before the meal.  The card said "will you marry me?".  As Nicky opened it I asked the question.
Nicky:  I was completely overwhelmed and burst into tears!  Lots of people in the restaurant were looking at us and clearly waiting for me to answer!  Of course I said yes and I had very happy tears!
And now you are married! Tell us about the big day…
David:  The day was amazing, but hugely emotional.  Nicky didn't look like she would make it up the aisle (through the tears!) and both of us struggled to say our vows which we had written to each other. It was fantastic to have so many of our friends and family with us.  The whole day went in a blur; but we carried on dancing, drinking, and chatting until 3:30am.
Nicky: It was absolutely incredible.  We were surrounded by our family and friends and it was a very, very emotional service.  It was perfect and everything that we had dreamed it would be.  We managed to do a first dance to Ed Sheeran's 'Thinking Out Loud' – the first line says 'When your legs don't work like they used to before…'!  It was great fun and we were still laughing when David wheeled over the train of my dress and nearly pulled me off my feet!
What are your favourite things to do together as a couple?
David:  Apart from the obvious thing that couples enjoy doing together, we love concerts, rugby  matches, eating out and in with friends, traveling, and I'm trying to teach Nicky how to sail.
Nicky:  We both enjoy working on my business; David is very good at helping me with costings and marketing ideas – I'm much happier being free to create designs and do the work on social media.  We also enjoy concerts, pub quizzes and fiercely competitive games of Scrabble!
What advice would you give to someone with a SCI looking to find love David? And Nicky what would you say to someone who has reservations about dating someone with a SCI?
David:  My advice would be to enjoy life.  If you're leading a fulfilling, rewarding life, then you have lots to talk about and it makes you an interesting person.  It's important to believe in yourself and come across as confident and not too needy, in my view.  Be honest about your disability, but don't let it dominate the relationship.
Nicky:  Ask questions; lots and lots of questions!  As and when the relationship develops, don't be scared to ask for help from outside sources.  I couldn't find a lot of the information I craved, which is part of the reason I have been so open and honest about things like sex in my blogs.  Starting a relationship with someone who had been injured for some years was hard; I had no knowledge of SCI and no experience of care needs, funding, bowel management, skin issues – or anything else! Look at the person; if you find yourself falling in love with them, then that's all that matters.
Photo credit: Marcus Ward of Bigeye Photography
If you would like to see David and Nicky's wedding feature in the ITV documentary Extraordinary Weddings tune in to ITV1 on Thursday 22 December 2017. You can watch the previous episodes here on the ITV Hub.