INTERVIEW: Paralympian Issy Bailey
When I started shooting nearly three years ago, I had no concept of what the Paralympic movement meant or how Paralympic sport worked. I hadn't come into contact with it during London 2012 because at that time I was able-bodied and obsessed with hockey.
When I was injured in June 2013, I had no idea how I would continue to play sport. It had been such a huge part of my life and I'd always thrown myself at any opportunity to compete, both as part of a team and as an individual. For the first few months it took so much effort to just get dressed in the morning, I wondered if I'd ever have the energy to even turn up and exercise but, as my rehabilitation at Stoke Mandeville NSIC progressed, I found myself more and more eager to get active again. I guess you never lose that competitive edge.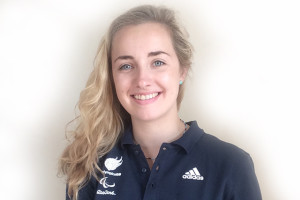 Playing physical and contact sport was tough to begin with, as the ribs I'd cracked were endlessly painful, but that's when an ex-patient, George Pas, suggested I try something more passive to ease back into sport and give my ribs a little more time to heal. George was in touch with Disability Target Shooting GB and set me up to go down to the range and try it out. I was told to go and meet Louise, have a pop at rifle shooting, and see if it was something I could do whilst the others were throwing themselves around playing basketball. So I went down to the huts, chatted with Louise, and she went to find a rifle I could use. It didn't quite work out the way I had planned…
Whilst she was gone, the pistol coach, Vlad came over and, in a very heavy Russian accent, introduced himself and handed me a pistol. I had no idea what to do with it. He held his arm up into an aiming position and I guessed he wanted me to do the same, so I did my best. He moved my then bony arm and shoulder into the correct position and looked at the stability with which I could hold the gun. He only smiled and said "OK" and then motioned me over to a firing point with a blank target. And that's where it all started, although I never did try that rifle.
From then on, Vlad insisted I train there as often as possible, but didn't quite grasp that I was still a patient in the hospital and had a timetable packed with physiotherapy and medical education. He told mum that I was "very small, very weak" but, in his book, pistol shooting was clearly the cure. As far as he was concerned, I was to be the next female star of GB pistol shooting. It didn't click for a long time that the place in which I was training was the GB squad base. It was only in February 2014, 8 months after my injury, that Vlad entered me into a competition in Bisley in the hope that (as I learnt afterward) I'd shoot the minimum qualification score to represent GB internationally. I squeaked by, making the score by two points. I then placed 6th in the GB World Cup a month later, and 9th in Poland in April 2014.
Looking back now, after two full seasons on the international circuit, I know that beginner-me never would have thought that the encounter with a Russian I couldn't understand would lead to me representing GB at the Paralympic Games. It gave me back my thirst for sporting achievement and I'm honoured to be able to pursue shooting at this level. I understand Vlad a lot better now and can even speak a little Russian with him, however poorly. I feel so grateful every time I think back to that day. He saw something in me worth training, worth nurturing, and it's thanks to him that I didn't have time to stop and think about my new condition, because he only saw the ability I still had. He set me on this path before I realised where it would take me.
And where it would take me is Rio 2016! As you read this, I'll be in Brazil with ten of my fantastic teammates to compete at my first Paralympic Games. It's exciting and it's nerve-wracking, but it's the pinnacle of sporting competition, so I'm nothing but ecstatic to be going. I know it'll pass by in a flash and the next cycle will start before we even have time to stop and think, so my mission is to go and learn as much as I possibly can, earn my stripes on the biggest sporting stage and make my coach proud. I'm lucky to have friends from every corner of the world going to these Games, so to compete amongst them and represent Britain is a privilege that I'll never take for granted and, I'm sure, I'll never forget.
Bring on Rio 2016!!