8 Inspiring Spinal Injury Blogs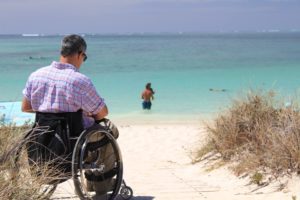 Last year we posted about our favourite inspiring blogs from people with a spinal cord injury, and this year we are back with some familiar faces and some new kids on the block.  Blogs are a great place to read about those going through the same experiences as yourself, connect with like-minded people and keep up to date with relevant news within the community. We have scoured the internet for the very best blogs and here are our favourites:
Nathan Kirwan's Recovery Blog
A personal account of spinal cord injury and recovery is exactly what Nathan's recovery blog offers to readers. A very honest and relatable blog, it details everyday aspects in his life, and you can bet you'll find something to relate to in your own life from the blog. Sometimes people can skip some parts of life when writing a SCI recovery blog, because not all readers can handle hearing about the often painful and frustrating challenges it brings. But not this one! Nathan reveals parts of his personal life, recounts stories about his 'half deaf Mum' and daily challenges he faces (and beats!) with refreshing honesty.
Read more here.
Mark Pollock's Blog
Mark Pollock gives inspiring and effective motivational presentations based on his life experiences. He is an example of innovation and resilience in action – how to pre-empt and respond positively to changing circumstances. In a fall from a second story window, he broke his back and was left paralysed. Now Mark is a pioneer, exploring the frontiers of spinal cord injury recovery through aggressive physical therapy and robotic technology.
Read more here.
Campaign for Rob
SIA has worked with Robert previously when he won the SIA Inspirational Achievement Award for Young People in 2016 at our Rebuilding Lives Awards. Robert was an active sports person before a car crash left him with a C3 spinal cord injury and he uses his blog to share his experiences as a tetraplegic as he continues to push his own boundaries.
Read more here.
SPINALPedia 
Just as its name would imply, this organisation has collected a wealth of videos with encouraging and useful messages from spinal cord injury survivors. Most of the videos are uploaded by the users themselves and provide stories, tips, and everything in between. Much like a social network, the highly engaged users can like, comment on, and share the posts – creating a true community of SCI survivors.
Read more here.
Conor's Journey – Lindeanlore
A serious spinal cord injury sustained while playing for the University of Stirling's rugby team on September 13, 2014, left Connor Hughes quadriplegic. Since the accident, support for Connor has flooded in from all parts of the country. The aim of this web site is to provide regular updates on Connor's progress, to highlight and promote fund-raising events, as well as raise awareness about the impact of spinal cord injuries. Connor and his family have been overwhelmed by the support and kindness shown to them by people from all over the country, and hope that this new web site will make it easier to strengthen these ties and keep in touch.
Read more here.
Facing Disability 
This website was created specifically to connect families who have experienced spinal cord injuries to foster a sense of community and mutual respect for those who have 'been there' and 'done that'. The website boasts a large collection of experiences and knowledge on the questions patients want to know, and maybe some answers to questions they didn't yet know they had! The blog features a great selection of multimedia articles, such as written accounts, video interviews and more, and covers many aspects of spinal cord injury and disability.
Read more here.
Arash Recovery
After falling with a third floor window, Arash was left with an incomplete C7 Asia B injury. Arash who was an athlete and an adrenaline junkie was determined not to let his injury take hold of his life and decided to continue following the adrenaline. He is now a motivational speaker who most recently presented to a TEDx conference.
Read more here.
Disability Rights UK
The Disability rights UK blog has a strong focus on physical activity and empowerment. It offers advice and support about partaking in sport and succeeding in the workplace. Advice comes from both those with spinal cord injuries and experts in the field. A great source of knowledge for anyone with a disability, including a spinal cord injury.
Read more here.
What are your favourite blogs? Let us know in the comments!