Professor Geoffrey Raisman, a pioneer in spinal cord injury science has died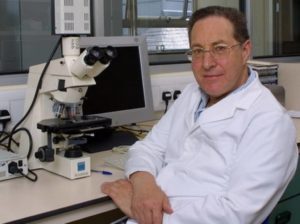 Professor Geoffrey Raisman, FRS, Chair of Neural Regeneration, UCL Institute of Neurology died on Friday 27 January 2017.  
Geoffrey Raisman was a pioneer in his field and a world-leader in spinal cord injury science, developing new approaches to improving recovery from spinal injury. His ground-breaking work has been recognised by election as Fellow of the Royal Society (2001) and to the Academy of Medical Sciences (1999).  He was also a Fellow of the Royal Society of Arts (2002).
Professor Raisman, who grew up in Leeds, pioneered a new method of treating injuries previously thought to be incurable. The treatment was successfully tested on Polish firefighter Darek Fidyka, who learnt to walk after being paralysed from the waist down after being stabbed with a knife seven years ago and cells from the 38-year-old's nose were used to re-grow cells in his spine.
Speaking about his research in 2014, Professor Raisman, who was chair of neural regeneration at the institute, said: "It is immensely gratifying to see that years of research have now led to the development of a safe technique for transplanting cells into the spinal cord.
"I believe we stand on the threshold of a historic advance and that the continuation of our work will be of major benefit to mankind.
"I believe we have now opened the door to a treatment of spinal cord injury that will get patients out of wheelchairs. Our goal now is to develop this first procedure to a point where it can be rolled out as a worldwide general approach."
Our condolences to his wife and family from all at SIA.