Spring is in the air!
Spring is finally in the air! The sun is shining; the birds are chirping, what better time to relax in the garden with the latest issue of Forward magazine?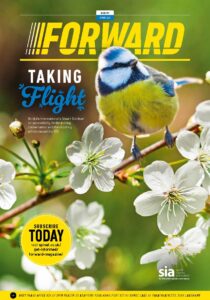 With the birds returning for spring, it was the perfect time to interview BirdLife International's chief scientist Stuart Butchart. Stuart has an incredible story, sustaining his SCI after being shot while travelling in Guatemala. He talks to us about birdwatching, his career in conservation, the story of his injury and much, much more. It's one not to be missed!
And Stuart is just one of the many people we have been lucky enough to interview for our spring issue. We also spoke to Casey Gemma who, after sustaining her SCI through a cycling accident, is now a yoga, self-love and nutrition teacher. She talks to us about body image and how you can learn to accept and love your body again after SCI.
Adapting your home after SCI can be a daunting prospect. We've spoken to experts who offer tips and advice alongside real life stories of home adaptations from SCI people who've made their living spaces more accessible and function better for them since their injuries.
Also in this issue:
The latest on SIA's bowel care campaign #SeriousSh1t
Williams FI and SIA: we look at the unique relationship between the Formula 1 racing team and SIA – a lasting legacy that continues to help so many
Paratriathlete Josh Landmann on a mission to make fitness accessible to all
SIA's clinical specialist Susie Wood explains what occupational therapy is and how it can help the SCI community
Memory loss: our ageing expert Joy Sinclair offers advice on the ageing brain
The latest in SCI news, research, fundraising and campaigns
Our SCI nutrition expert offers advice on using your diet to promote healthy skin and heal wounds
News from the 2023 SIA Healthcare ski trip, and how you can get involved in 2024
Marvellous mums: celebrating Mother's Day with special shout-outs to some fab mums
Spring sunshine with the 2 SCI chefs – check out their seasonal favourites and find out which one of the chefs is about to have a big birthday!
We hope you have a warm and wonderful spring and as always get in touch with us to share story ideas or just to let us know what you think of the magazine, by emailing us at [email protected]
Not yet subscribed?