In memory of Baroness Masham
Baroness Masham
14 April 1935-12 March 2023
Our founder and life-long president Baroness Masham passed away peacefully at Northallerton Hospital on Sunday, 12 March.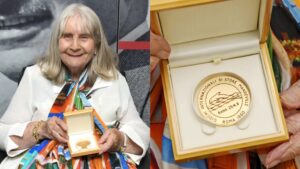 A trail-blazing champion of disability rights, she had, amongst many personal attributes, the gift of communication – she was a great listener and was able to initiate meaningful conversations and had an uncanny ability to recall names and make introductions confidently, assuring those around her became connected and made connections.
This skill at forging connections combined with a singular, determined devotion to make a difference in the lives of spinal cord injured people was instrumental in her founding the Spinal Injuries Association (SIA) in 1974.
Born Susan Lilian Primrose Sinclair in Caithness, Scotland in 1935, she moved to England for school and went on to make the country her home.
A keen sportswoman, she was 23 years old when she was paralysed from the chest down during an accident while horse riding in the 1950s.
Her rehabilitation took place at Stoke Mandeville where she met her life-long friend Sir Ludwig Guttmann, the founder of the paralympic movement. She would go on to become a 10-time Paralympic medal winner, securing her first gold in swimming at the inaugural Roma Games in Italy in 1960. Subsequently, she went on to win medals in swimming and table tennis during the 1964 and 1968 Games.
Before then, in 1959, she married her beloved husband David Cunliffe-Lister, Lord Masham, then becoming Lady Masham. Their wedding was attended by her good friend and former SIA vice president, Lady Gillian Howard de Walden, who recalls a beautiful day and a radiant bride in a magnificent dress.
"She had a husband she adored," remembers Gillian, "They were so well suited, and both had lots of energy!"
The couple went on to adopt two children, John and Clare, and lived in Masham, Yorkshire where she enjoyed keeping Highland ponies and her much-loved Dachshund dogs.
In 1970 she became Baroness Masham of Ilton after being appointed a life peer in the House of Lords. She would go on to become the longest running female peer ever, with 53 years of service.
Having this platform enabled her to raise the voices of disabled people and to throw a spotlight on the issues affecting the day to day lives people and families living with spinal cord injury.
Crucially, it was discovering how little support there was for spinal cord injured people after rehabilitation which laid the foundation for a lifetime founding, developing and then being the voice for SIA.  Over 49 years Baroness Masham served the spinal cord injured community, networking and cajoling people and organisations to take up the cause.
Gillian recalls Baroness Masham bringing her and her late husband Lord Howard de Walden into the SIA family. She says:
"It came as no surprise to me that she founded the association – it was just part of her character, she was so driven, active and quick. It was such a great achievement on her part; she was the sort of person who would talk to whoever she came across and had a gift of bringing things out in people – she really wanted to know what problems people were encountering and to help. She never hesitated to ask the awkward questions – she liked to get straight to the point.
"She was a very bright person in all our lives. I'm pleased she was able to see just how far the association had come in recent years, and the difference it has made to so many people's lives."
Baroness Masham's vision for an organisation that truly represents and speaks for spinal cord injured people runs through the fabric of our work at SIA to this day, guiding us to champion, fight for and support the community we serve. Her legacy – to help spinal cord injured people achieve their own goals and to choose and realise their own ways of living – remains our guiding force as an organisation.
Our CEO, Nik Hartley said:
"Sue Masham has helped tens of thousands of people by founding and developing this charity nearly 50 years ago, to fight for and support spinal cord injured people. She was, and remained until the very end, a life force, a maverick even, but always an enthusiast for the cause to which she was devoted. Everyone here at SIA is devastated to have lost our greatest advocate and we offer our deepest condolences to her family at this sad time."
Baroness Masham's family has kindly requested that donations in memory of her life are to be given to SIA.