Support us with a gift in your will
This April, support the Spinal Injuries Association (SIA) by leaving a gift in your will.
Your gift, no matter how big or small, will support our mission of giving spinal cord injured people and their families the tools they need to live a fulfilled life.  
Your gift will provide essential support services to people affected by spinal cord injury, including information about spinal cord injury, counselling, clinical advocacy, emotional support, campaigning and awareness raising about spinal cord injuries. Gifts of any size are crucial to our long-term future so we can be here for people, for life. 
How can I leave a gift in my will to SIA?
Writing your will
If you haven't written a will, it's important to consult with a solicitor to ensure that your wishes are respected and your loved ones are taken care of. They can help you to choose the type of gift you would like to leave and advise on the best way to write your will so that is complies with all legal requirements.  
The Law Society website has information about local solicitors. You can contact the Law Society on 020 7242 1222 or visit lawsociety.org.uk  
You can also write your will for free by visiting Farewill and quoting SIA-willmonth 
Please note you must use the above code to purchase your will for free. 
Making a change to your existing will
If you have already written a will, it's simple to include a gift to SIA. You can add a codicil, which is a supplementary document that makes a change to your will, without having to redo the entire document.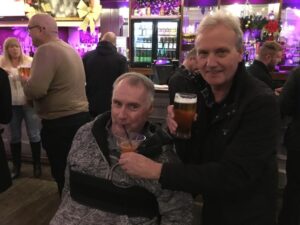 Here are some things to consider when leaving a gift in your will: 
Choose a type of gift:

t

here are several types of gifts you can leave in your will, including a specific gift (e.g. a set amount of money or a piece of property), a residual gift (a percentage of your estate after other gifts have been given out), or a contingent gift (a gift that only takes effect if certain conditions are met).

 
Consult with a solicitor:

e

nsure that your wishes are accurately reflected by seeking the guidance of a qualified solicitor. Regularly updating your will ensures that your gifts and beneficiaries are honoured according to your wishes.

 

Let us know:

i

f you decide to leave a gift in your will to SIA, please let us know. This will help us plan for the future and ensure that we can continue to provide the best support possible.

 
Together, we can ensure that all spinal cord injured people get the vital support, advice, and guidance they need to thrive. Once you have provided for your loved ones, consider including us in your will so that we can continue to provide support to those who may need it in the future.