Our autumn issue of Forward
We hope you're enjoying autumn's mists and mellow fruitfulness!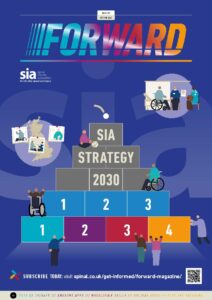 We're delighted to bring you our autumn issue of Forward, packed full of real-life stories, the latest news, research and advice from across our community.
Since returning to work after his spinal cord injury, surgeon Mo Belal shares his thoughts on balancing family, personal and health commitments alongside his demanding job.
Our mental health columnist Ruth F Hunt looks into the therapeutic value of pets and offers information on charities which help train dogs to become support animals or bring therapy animals to a variety of settings. We also have an excuse to use pictures of some very cute pets too!
Our 'What Matters?' survey earlier in the year attracted its biggest response yet and we're so grateful for those of you who took time to tell us what the crucial issues are for you. We reveal the findings of the survey and share some of your personal experiences.
Also in this issue:
We highlight the incredible work of our support network volunteers
Read about our ambitious Strategy 2030 which will help ensure SIA is the expert guiding voice for life after spinal cord injury
New research which aims to prevent urinary tract infections (UTIs) in patients with SCI.
Equality and human rights in social care – the Equality and Human Rights Commission (EHRC) calls for nine principles to guide social care planning, policy and practice
Let the good times roll! SIA member Graeme Rudd reviews a recent holiday in Seville.
Vine and Rhine, Polo and Rebuilding Lives Festival – catch up on SIA's amazing events
It's Christmas! Well, nearly?! Check out our exclusive range of Christmas cards
Martin Hibbert's Mt. Kilimanjaro trike gets a new lease of life – we introduce the lucky #EverydayMountains winner who is planning her own incredible challenge
Planning a trip out? From locating accessible toilets, parking and fuel stops to reviews on the best accessible restaurants, check out our recommendations on the best disability apps
Wheelchair Skills College founder Pete Donnelly explains how his YouTube and TikTok videos are making it easier to learn essential wheelchair skills for free
Become your biggest cheerleader! Meet empowerment and mindset coach Shanice Green
The regular recipes, comedy and updates you love!
Please get in touch to share story ideas or just to let us know what you think of the magazine, by emailing us at [email protected]