A cycle home to remember - read more about one of our amazing supporters, Mark Tasker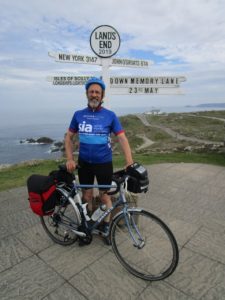 Every year we have lots of people taking part in challenges to support our work, including many cyclists (either taking part in RideLondon, our overseas cycle rides, or even a trip abroad) but none have gone quite as far  – or taken as long – as that of one of our most fantastic supporters, Mark Tasker.
Starting on 23 May, and finishing on Friday 28 June, Mark set himself the challenge of cycling over 3000km across the UK, visiting all the places he has lived, as a challenge to support SIA and the Alzheimers Society, both causes very close to his heart.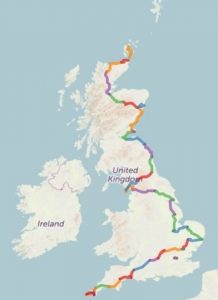 Having been born in Cornwall, and at one stage living in as far flung places as Orkney, Mark's 37 day trip took in such famous sights as Buckingham Palace, St Andrews Golf Course, a puffin sanctuary, and the Pewsey horse in Wiltshire, with plenty of stunning countryside thrown in for good measure.
As well as a bit of bird watching, Mark also got to sample some local culture, including plenty of cream teas in Devon, a local scarecrow competition in Somerset, and even some Bulgarian street delicacies in Arbroath of all places.
Mark's challenge however, was more than just about a love of cycling.   His cycle ride has extra meaning, since his sister Jo had an accident just before Christmas resulting in an injury to her upper spine.  She is currently receiving treatment for a spinal cord injury at the National Spinal Injuries Centre (NSIC) at Stoke Mandeville where she is making good progress.   Happily Mark was able to drop in to see her as part of his journey
As well as visiting his sister, Mark also had the chance to visit Stoke Mandeville stadium, and the museum there, where he found out a bit more about the NSIC, spinal cord injury and the pioneering work done by Ludwig Guttman  – which was another perfect reminder of what can be achieved by SCI people with a bit of support.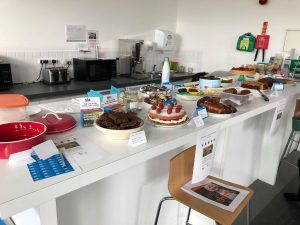 And as if cycling almost 3000 kilometres wasn't enough, Mark has also been doing his absolute best to raise vital funds and awareness, including organising the occasional bake sale with friends and colleagues. It looks like they went down an absolute storm, and all his efforts have added up to an incredible total raised, of almost £8000 so far!
Mark's efforts have been the culmination of almost a year of training and hard work, and even saw him proudly sporting an SIA cycling top as far away as the Falklands (well and truly helping put Team SIA on the map)!
It is tough to put into words exactly what that support means to SIA, but in simple terms, all the time, effort and determination Mark put in will help us change the lives of people affected by spinal cord injury across the UK.
Mark, we really can't thank you enough – you are an absolute superstar!
Visit Mark's blog to find out more about his incredible cycle adventure.

To make a donation just visit his fundraising page.