Volunteers Week 2019
This is Volunteers Week and we would like to take this opportunity to say a HUGE thank you to all our volunteers.  SIA has volunteers who work with us in our office in Milton Keynes as well as people who give us their time and support in the community.  Here is just a small selection of all the different ways our volunteers have supported us during the past year.
All our volu
nteers who support us in SIA House – people like Debs who has organised and managed our Christmas card operation as well as helping out with other admin jobs.
Our team of Peer Support Volunteers who do a wonderful job working out in the community with our Peer Support Officers.
The teams of brilliant bucket collectors who brave all kinds of weather conditions to shake a bucket for SIA.
The members of our different event committees who generously take time out to help us plan and organise our social events and the amazing people who come and volunteer to help in the running of those events .
The wonderful people who give their voices to cheer on and support our runners and cyclists – not forgetting the volunteer photographers helping us to capture the events and the physios who aid in the recovery of our runners after the race.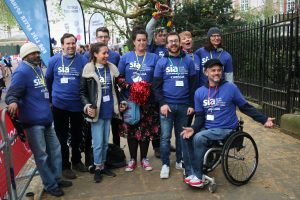 And last but certainly not least, our very special board of trustees who give up their time to guide and advise the charity.
Once again to everyone who volunteers for SIA…
If you're interested in joining our team of volunteers visit our Volunteering page today.