Richard Clark, Way of the Roses - Day Two
Today was very different to yesterday
We left Garforth in the Yorkshire Dales at 9:30am aiming to get to York for 5pm.  First of all we had a 5 mile ride just to get back on the route. This ride and the next 15 miles provided a challenging start to the day, only 3000ft of climbs!  Perfect weather though, cool but sunny.  The Yorkshire Dales looked their best and we passed loads of groups of cyclists on the way.
We were aiming for Stump Cross Caverns which came up after an epic climb through Appletreewick but the tea and cake were most welcome after almost 2 hours of climbs.
Then we had an epic descent into Pateley Bridge, top speed was 43mph but I only managed 41mph.  Then another epic climb of 1300ft out of Pateley Bridge to get up to 3000ft for the morning.
We then headed to Ripon for a late lunch before finding ourselves on some flat quiet roads to York – such a contrast and gave us a good chance to see how we could ride as a group.  We managed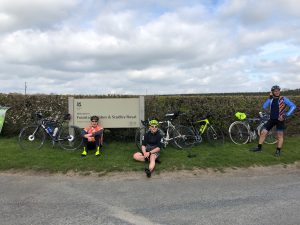 21mph as an average for almost 8 miles but considering the Tour de France riders would average 40mph on the same flat roads we have a lot of practicing to do!
We arrived as planned at 5pm for a well earned beer.
Tomorrow is the final leg, around 2000ft of climbs as we head from York to Bridlington and the finish.  Peak heart rate for me today was 150bpm with an average of 118bpm over the full 7 hours we were riding!
In total we should have climbed about 11000ft by the end.