On your bike for SIA - Way of the Roses, day three
My preparation for SIA's Eastern European Adventure
Final day, York to Bridlington and we finished on my birthday!
The day started early from York Minster.  A foggy day but we were hopeful it would lift, sadly not.  The wind from day 1 returned as did our first experience of driving rain and foggy all the way.
We only had 2000ft of climbs thankfully as no-one had anything left in their legs so we crawled up the hills into the easterly head wind.
Some great flat roads between York and Bridlington which meant we could really push on, 25mph at times.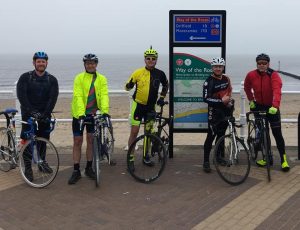 A couple of falls as we headed into Bridlington at the end which showed how tired we all were.  Thankfully apart from a few scratches and dented egos no harm done.
The ride down onto Bridlington's marine drive was great and then to be greeted by our families was amazing.