SIA & Williams Private Dinner
On the 6 September, a truly unique and exclusive event took place in aid of Spinal Injuries Association, at the home of Williams Racing in Grove, Oxfordshire.
The lucky guests arrived for a Champagne reception and the chance to view the inspiring Trophy Room which is housed in the Williams Conference Centre.
After a chance to relax both of the current Williams drivers, Felipe Massa and Lance Stroll, took time out of their hectic schedules to join the group for photographs, autographs and a fascinating Q&A session which was kindly hosted by SIA Ambassador, Steve Brown.
After hearing all about the life as a Formula 1 driver guests were invited downstairs to wander through Sir Frank Williams' private Grand Prix collection, the largest in Europe and a chance to peruse the great auction prizes which were available to bid on throughout the night.
A delicious dinner was served in this private setting and just before dessert a talk was provided by Nathalie McGloin, the only female tetraplegic in the world to be racing cars. Nathalie inspired guests but also confirmed just why SIA was so important in her recovery and getting her to where she is today.
"Thank you for hosting what was a very special night, we both thoroughly enjoyed it and were happy to support it."
"Just wanted to say thank you once again for such a fantastic evening. We had a great time – it's an amazing venue and obviously the cause is so incredibly worthwhile."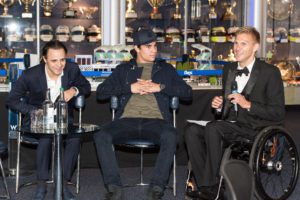 "Thank you, it was a tremendous evening Richard was in his element it is indeed a very special venue and meeting the drivers was the icing on the cake.
If you would like the opportunity to join SIA in 2018 for this once in a lifetime opportunity please don't hesitate to contact – [email protected] to reserve your tickets.