SIA attends Williams Open Day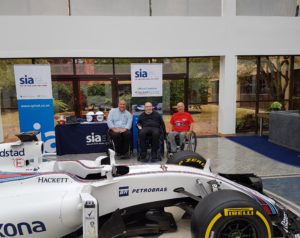 Williams' annual thank you to the family and friends of their dedicated and hard working staff was held at their Grove headquarters on 9th September.
Around 2,000 guests came to the day which included the opportunity to look behind the scenes at the fascinating Williams Factory and incredible Williams Collection from their 40 years in Formula One. There was also the opportunity to have a go in a F1 simulator or match pit crew speed at changing a wheel. For many, the high point was meeting driver, Felipe Massa whose picture must have graced many a Facebook page at the weekend!
In recognition of the close relationship between Williams and SIA, a raffle was held with tremendous Williams prizes and donations also made by those having a go in the simulators etc.
This was helped by the attendance of SIA staff and volunteers who manned a stand in the F1 Centre and spoke to staff and family about our work and the background to the link between Williams and SIA.
Thanks must go to Amanda and Nicola as well as the incredibly hard working staff at Williams who made sure no-one missed out on the chance to enter the raffle!