Rebuilding My Confidence - Heidi's Story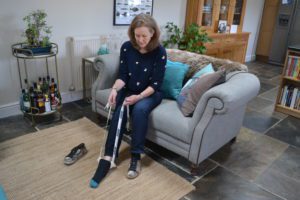 Following her injury, Heidi Meadows faced both physical and emotional challenges during her rehabilitation. When Heidi returned home and was no longer in the safety of a hospital setting, she soon encountered a new set of challenges. With time, Heidi has adapted to her SCI and discovered her new 'normal' life.
It was 2011 and the year was working out really well. My husband and I relocated to Oxfordshire, I started a new job and we were really enjoying life. However, in September my grandmother passed away, followed by my father and then I was involved in a head-on collision while returning from my father's funeral. My family had minor injuries, but I sustained an incomplete SCI at T12. There are no words for this time in my life, which I still find very hard to talk about.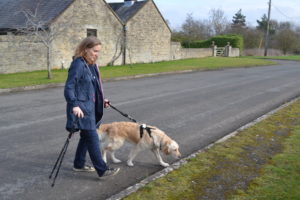 I was admitted to Addenbrooke's Hospital, Cambridge, and then I was moved to the National Spinal Injuries Centre at Stoke Mandeville Hospital. They said my injury was incomplete, which I thought was a bad thing – anything not complete is bad, isn't it? It turned out I got lucky, although at the time it certainly didn't feel like it.
My time in hospital was really hard and I often felt isolated. The fact that the ward was filled mostly with male patients didn't help. In fact, there were only five women on my ward, which I understand is common as the majority of people who sustain an SCI are male. The other women couldn't participate in group sessions, so I didn't have quite the same support network as the men did. There were many group sessions where I was surrounded by men who all had banter, camaraderie and a shared empathy, as we talked about sensitive subjects. They were all lovely, but I really missed the company of women.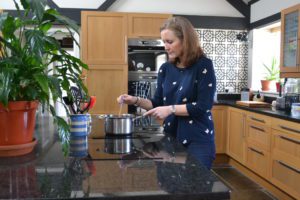 The other factor that isolated me was that I was a walker. I felt guilty as I had sustained a lesser injury, and sometimes it made me feel like my needs were of a lesser value, so I stayed quiet. I often felt frustrated that my needs weren't catered for – the focus was on wheelchair users. The treadmill, raised up at the back of the gym, highlighted this for me as I desperately kept pace while fighting an anxiety attack. I knew everyone could see me if I fell – it scared the life out of me! To be honest, I think I spent most of my time in hospital feeling numb.
It didn't feel real and I was so sure I'd wake from this nightmare soon. It wasn't until I was discharged, five months later, that I realised this was actually my new life. Starting a new chapter Returning home was strange. I thought it was the golden ticket. However, although I was home, it wasn't home any more. We lived in a townhouse, so my bedroom and the shower were on different floors. The shower seemed small, cluttered up with the shower chair and mobility aids. As I needed lots of assistance and with my husband at work, my mum moved in to help – the joy!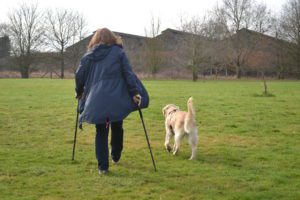 There were rucksacks to transport things between floors and crutches on each floor. Everything was different. Everything had changed or had to be changed to fit around me. I couldn't go back to work as I still had a lot of rehabilitation to go through.
Goals, goals and more goals. You see the films – one minute in a wheelchair and the next, walking carefree. Yeah, right. Years were filled with physiotherapy and functional electrical stimulation pads on my bum – photos of my bum on my phone accidentally shown to my brother-in-law. Fabulous.
The most unexpected challenge was in my head. Before discharge, I'd only walked in the safe environment of the hospital. Walking around the outside world was a completely new ballgame and what was happening in my head was stopping me from progressing. Anxiety attacks while I was out meant my world shrank.
With every step, I was convinced that my legs would fail and that I would fall, sustaining further injury. In open spaces, my head would start spinning. It began to make social outings unpredictable, embarrassing and not very enjoyable. I felt vulnerable and a failure. I had this peculiar behaviour where my legs froze and I'd move the crutch forward, backward, and then forward again – my crutch somehow encouraging my legs to move.
Diagnosed with late onset post-traumatic stress disorder, I could finally try to unpick my head. I still have my moments, but thankfully, my legs don't freeze anymore. I slowly progressed from crutches to sticks and I started to venture further afield on my own. Moving to a single-storey house opened up my world. We re-homed a dog called Flora from a charity. Now I walk her on my own for an hour or so across fields and dodging stiles – unthinkable a couple of years ago. Flora has helped me immeasurably; she has given me confidence and reassurance when I am out walking.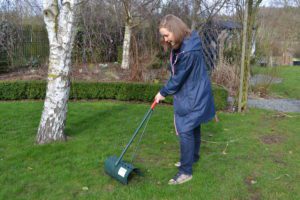 In fact, yesterday I left my stick in a shop and I didn't notice until I got home, although I don't think I'm quite ready to throw them away just yet. Small things happen so slowly you don't notice, but now and then, you look back and realise how far you have come. I've learnt to enjoy the new life I have. It's different from before, but what's a 'normal life' anyway? It's taken years, but it's my normal life.
This is Heidi's story, what is yours? Get in touch with us today and let us know about your challenges, or successes. Email Sophie on [email protected].