1 Man 1 Hand-cycle, 2,500 miles, 27 Days
COASTLINE CHALLENGE 2017
One man, one handcycle, 2,500 miles and 27 days.
This has been my most ambitious challenge yet.  After two years of planning it's hard to believe I've finally done it.  There were many occasions over the last two years when I thought it would never happen. To say I was not nervous would be a lie. While I've spent the last two years preparing for the challenge and the conditions I was to face, it was hard to shake off the feeling that it was all beyond my ability.
I am so pleased that I was able to complete this challenge for so many reasons. I feel special and privileged to have been able to experience a once in a lifetime dream.
Part of this challenge was to show what can be achieved, disabled or not, if you put your mind to something. My goal was to engage people who may not have seen handcycles before, or who have simply seen them as gadgets and not realised that the person riding it is disabled. This journey was also about inspiring those with a disability that you can be active.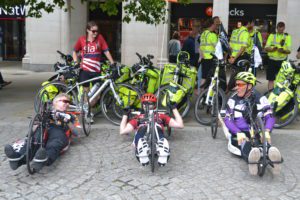 Completing a 2,500-mile journey
For a few hours after I finished the challenge it felt fantastic. I experienced a cocktail of surprise, relief and happiness; a mission accomplished, a dream achieved.  I feel special and privileged to have been able to experience a once in a lifetime dream. However, I was knackered,
Afterwards, I reflected on the pros and the cons of my chosen path as an endurance disabled handcyclist on such an amazing journey.  I also think about the more challenging aspects still to come.
I am an active person and happiest when outside.  It is a privilege to be able to do what I love, and love what I do. Gone are the days when I was chained to my wheelchair. I get to 'live my dream' in so many ways. For the most part, handcycling keeps me fit and healthy. I get to see and visit some amazing places, and I meet people from so many different countries, cultures and backgrounds. I mean, how good can it get? How can there be any down sides?
I have so many highlights from this journey but the one that will stay with me forever was meeting and cycling the last 10 miles into London with Gary Dawson, SIA's Peer Support Officer for the North West, and his lovely sister Julie.
The countless emails and messages I have received from people who joined me on this journey so far choke me with gratitude. I struggle to express the overwhelming gratitude and I'm so unbelievably appreciative for every single person who has been part of this surreal but incredible adventure so far.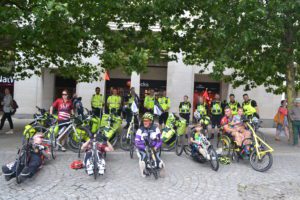 Thank you!
I would like to take this opportunity to thank a few people who have supported me in the last two years.
To my wife Laura – thank you for believing in me, for being there at my lowest points, you are my rock.  I love you so much. Thank you.
My daughters Emily and Becky.  Thank you for the amazing work you both have done on my websites, blog, Facebook and Twitter pages, and not forgetting the many times you had to put up with my moods. I love you both.
To my sons Carl and Tony. Tony, thank you from the bottom of my heart for the amazing website you built for me www.hand-cycling.co.uk  Carl, thank you again for being my driver again on this challenge.
Chris Busby.  When my driver who was planned to drive the medical motor home for the first three weeks dropped out you came to my rescue, a price I will never be able to pay back, thank you my dear friend.
Matthew Wing.  My mentor from the first time we met you have always been there, through some of the real hard times I have been through over the years.  You always find a way of picking me back up, thank you for being there when I needed a friend.
The six riders (Gary Dawson, Julie Dawson, Cefn O'Ryan, Jack Famer, Matthew Wing and Jonathon Waters) who cycled alongside me from the Lee Valley VeloPark London for the last 10 miles of my 2,500 mile coastline challenge to St Paul's Cathedral in London.
Thank you to The London Ambulance Service cycle response unit and the Metropolitan Police cycle response team to see me and my team safely through the streets of London on the last 10 miles of the challenge in London.
– Rob Groves