Yorkshire Business Owner Matt to run Berlin Marathon after working with SCI client
On Sunday 29 September, Matt Booth, Founder and Director of Flex Health in Hull, will take on the gruelling Berlin Marathon on behalf of the Spinal Injuries Association (SIA) – the expert voice and leading source of support and information for people with spinal cord injury (SCI).
Matt, who will be running alongside two of his friends as part of #TeamSIA, was inspired to raise vital funds for the charity after working with his client Janis Pilkans, who sustained an SCI in May 2018. After an evening with friends and colleagues, Janis fell from a cliff in East Yorkshire, sustaining a C5 complete injury that resulted in permanent paralysis from the neck down.
Speaking about his upcoming challenge, Matt said,
"I first met Janis when he came to Flex Health for specialist physiotherapy following his SCI. Given what Janis had been through and the life-changing injury he had sustained, we wanted him to maximise his rehabilitation potential within our purpose-built facility, which provides neurological physiotherapy for people with a range of injuries and disabilities.
"Janis has also been supported by SIA, which has made a big impact on his recovery – in fact it brought Janis to Flex Health. We have seen first-hand the difference expert support and advice can make for people living with SCI, and that is why I'm running the Berlin Marathon for SIA. I want Janis and other SCI people living in Yorkshire to get the support they need, so they can move forward with their lives."
The impact of support
After his injury, Janis spent time in several rehabilitation hospitals before being admitted to the SCI Centre in Pinderfields. It was during this time when he first met SIA's Peer Support Officer for Yorkshire & Humber, Andy Wharton. Living with SCI himself, Andy knows how devastating SCI can be and was able to guide Janis through those difficult weeks and months.
When Janis was ready for discharge from Pinderfields, he had hoped to return to his flat but it was now inaccessible to him and he could not return home. Instead, he was moved to a residential care home. While Janis received good care, being surrounded by predominantly elderly people who he struggled to relate to was a blow to his rehabilitation.
Andy focused on how best to support Janis to improve his quality of life. He liaised with Hull Adult Care, accessed information from Janis' local wheelchair services, guided him through applications for health and social care funding, and suggested local SCI support groups and an SIA-led vocational clinic. Andy also introduced Janis to SIA's Young Person of the Year Award, Callan Rawnsley, so that he could meet another young person with a similar injury while he was in the nursing home.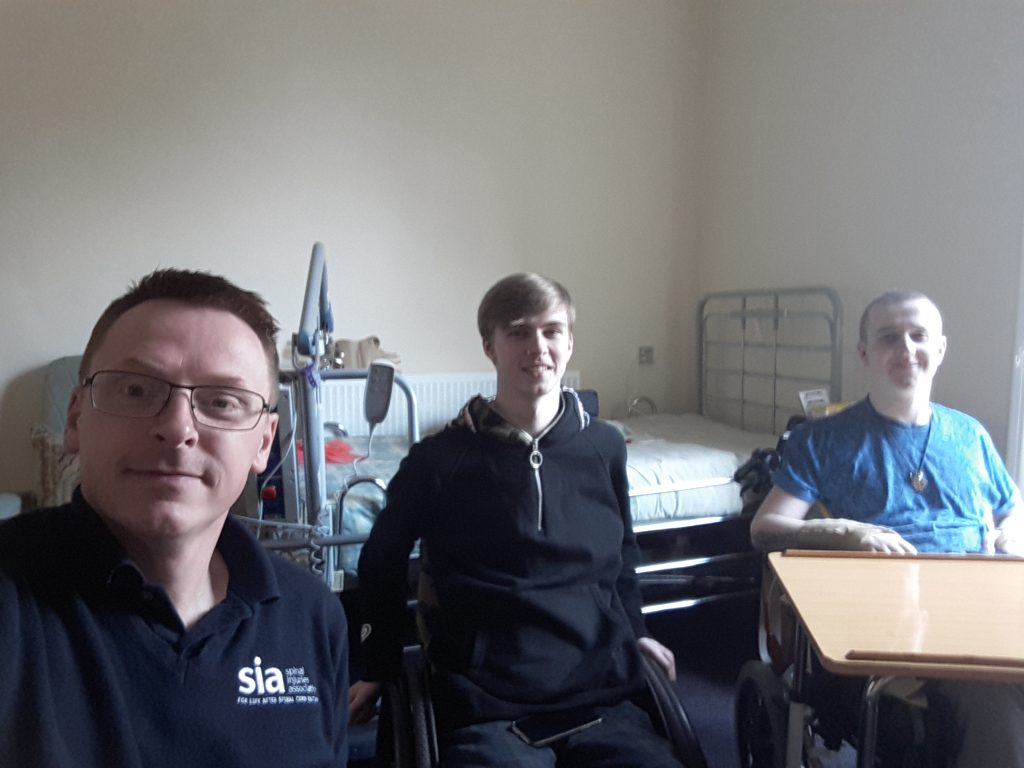 Andy also secured a grant from the charity SPINE – the 'voice' of patients at the SCI Centre in Pinderfields – so that he could access much-needed physiotherapy from Flex Health.
The approach at Flex Health is one of intensive physiotherapy, delivered to patients two-to-four times per week during the most crucial phase immediately following injury; the model replicates the kind of care given by medical teams within professional and elite sport.
Many SCI people in the Hull and East Yorkshire areas are benefiting from and enjoying the services of Flex Health and, in August, the service expanded into North Yorkshire with the opening of a new centre in York.
You can read more about Matt's challenge on his fundraising page today.
SIA would like to thank Matt and Flex Health, and wish the very best of luck to him and the rest of the team at the 2019 Berlin Marathon!