BTCC Race Weekend
SIA recently held our first fundraising event at Brands Hatch
On arrrival at Brands Hatch on Saturday afternoon the SIA staff team were welcomed by Nick Parkin of Proceed Group and Richardson Racing.  We were were then taken to the hospitality box which provided a fantastic view of the track and we watched the first (F4) and second (Ginetta Junior) races of the weekend, and the final qualifying session for the main event, the British Touring Cars.
There was plenty of drama and thrilling action, not least because of the horrendous rain and wind. Will Martin's Ginetta Junior took a major hit and was deemed unfit for the track on Sunday, and Luke Browning had to use all his wet-weather skills to secure a podium in two out of two F4 races.
Next up was a guided tour of the paddock area, where we saw cars from all support-race classes (British F4, Ginetta Junior, Ginetta GT4, Renault Clio Cup and Porsche
Carrera Cup).  We then made our way down to the Richardson Racing awnings to meet the engineering team, young drivers (Luke Browning, Will Martin, Casper Stevenson, and Ethan Hawkey), their families and supporters.  We were shown around their professional set-up, and got to enjoy a glimpse of their cars and the trophies they'd secured that day.
After the day's racing was done, we were invited to join Richardson Racing for an evening of food and networking with the team and their supporters, before everyone retired to their hotels for another busy day to follow.
Sunday – the main event – arrived, and we were back on site bright and early, ready to receive our guests for the day.
We welcomed colleagues and clients from our charity partner, Vanquish Tech, and some new friends of the charity brought about through local connections at SIA House in Milton Keynes.
Nick Parkin was the perfect host, and had invited along some guests of his own, so there was a fantastic opportunity for networking amongst motorsports enthusiasts, and
plenty of knowledge in the room for those less well versed.
The guests were treated to a visit to the Richardson Racing paddock, where they were shown the cars, met the young drivers, and had an exclusive, behind-the-scenes look at the racing office and team telemetry system, before heading back to the box for refreshments and more racing.
Our visitors were also invited to take part in a champagne raffle, and had the chance to win some exclusive artwork in a silent auction.  Special thanks go to SIA Member and SCI Artist, Dustine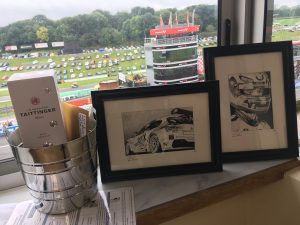 West, and Colin Turkington of West Surrey Racing for providing these fantastic prizes, and to everyone who bought tickets and placed bids.
The on-track action was non-stop.  Luke Browning got yet another podium, Will Martin's Ginetta Junior was repaired at the last minute and he then went onto win his final race of the season, and Colin Turkington of Team BMW was crowned the four-times BTCC Champion.
SIA was in pole position to benefit from the circa 30,000 trackside crowd, with ITV4 television coverage, an advertisement in the official event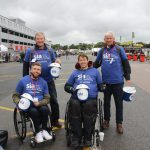 programme, SIA-branded trackside hoardings, and charity bucket collections around the circuit.  Our very own Carl Martin, Peer Support Officer for the South Coast, who was injured in 2016 at a Brands Hatch motorcycle track day, was amongst the volunteers supporting the event.
As well as getting the SIA name in front of a new and diverse audience, we raised a fantastic total of £1,100 from our fundraising activities on Sunday, so a fantastic result all round.
An enormous thank you to all of our generous partners and supporters for making SIA's first visit to Brands Hatch such a successful event!
Special mention to: