SIA At Home Superheroes complete their mission
Between 5th November and 6th December over 20 SIA Superhero fundraisers took on the At Home Winter Wonderwheels mission, part of the Superhero Series.
Our Team of #AtHomeSuperheroes were asked to take on their own challenge, anywhere, and in any way. To make things interesting we added an element of competition between North and South, with the top fundraisers winning bragging rights. They were supported along the way by our wonderful Team Captains – Steve Brown (South) and Hannah Cockcroft (North). Congratulations to Team South on your victory!
We are delighted to that our fundraisers have collectively raised over £6,000 for SIA! It's not too late for you to support them – click here.
Some of the highlights have included:
A team from Simpson Millar, our partner in the East of England,  raised £1461 and covered over 600 miles between them.
We also had SIA staff hitting the road. Chris Selway (Support Network Officer – South Wales & the Borders) joined forces with his wife and brother to form The Super Selways, raising almost £1000 and covering 500 miles collectively!
Moving North, we had Robert who raised over £150 and clocked up over 250km hand cycling throughout the challenge.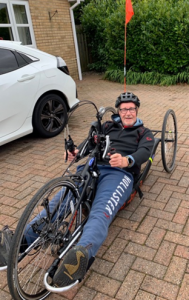 And, finishing her challenge in an incredible Christmas costume, we had Lucy. Lucy works at Sheffield SCI Centre and decided to take part because she misses SIA staff being able to visit in person, and the difference that it makes to patients and staff. She ran every day in lockdown and raised over £750.
These are just a few examples of the amazing things our superheroes have done to support SIA. We are so grateful to everyone who took part, cheered them on, and sponsored them – thank you! You can see the final totalisers and special messages from our Team Captains here.
If our superheroes have inspired you to take on a challenge and fundraise for SIA get in touch with our fundraising team by emailing [email protected] or calling 01908 604 191.