Rob's Snowdon Challenge
In September 2013, Rob Camm was involved in a serious car accident, and the result was catastrophic; he sustained a high-level spinal cord injury, leaving him paralysed from the neck down and dependent on a ventilator to breathe.
After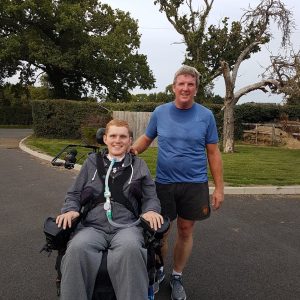 his injury, Rob was supported by SIA's Peer Support service and given other practical assistance, which he describes as  "invaluable and instrumental in helping me to adjust to my new life".
Because of the huge difference these services made to his life, Rob has decided to raise vital funds for SIA.  He is passionate that SIA is able to support other SCI people, and he's keen to demonstrate just what's possible after injury.
The Challenge!
On Saturday 17 August, Rob will ascend Snowdon with a 33-strong team of supporters, and will be aided by his all-terrain, chin-controlled wheelchair, something he believes is a first when taking on this huge challenge!
Rob told SIA that his training has been arduous to say the least.
"The mechanics of my wheelchair mean that I feel every bump in the path, I move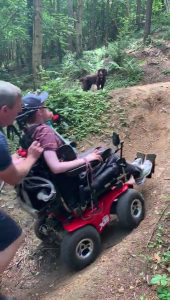 around quite a lot, and it puts a strain on my neck."
He's determined though, and has been pushing hard to up his distance and cover new types of terrain.
The Team
It's also a huge challenge for his support team. Rob will be joined by a whole team, each with an important role of their own.  Everyone from carers to cheerers will be taking on the monumental climb and will be with Rob every step of the way; tending to his medical requirements, dishing out refreshments and generally cheering him on and boosting morale throughout the climb.
As well as his wheelchair, there'll be a whole load of equipment transported up the mountain, including medical kit for Rob's care, ramps for some of the more tricky terrain, spare batteries for the wheelchair, and not to mention all the food and drink required for such a big team, undertaking such an epic challenge!
The journey
As this is an unprecedented feat, Rob can't be sure how long it'll take, but his ultimate goal is to reach the top and make it back down all in one day. He's extremely determined to do all that he can to make this happen.  Find out more about Rob's preparations and follow his journey on Facebook.
On the lead up to his colossal challenge, Rob is working in his local community to get the support of the public and nearby businesses, so, please show Rob your support and spur him on for the big day by donating to his fundraising page
A big THANK YOU to Rob and all his supporters.