Plans to cut NHS funds risk "warehousing" severely disabled Leicestershire and Rutland residents, charities warn
Charities including Spinal Injuries Association, Motor Neurone Disease Association and Parkinson's UK are seeking to block NHS plans in Leicestershire and Rutland that could see severely disabled people forced to live in residential care miles away from home.
Under current plans, severely disabled people with the greatest care needs are assessed under the NHS Continuing Healthcare scheme. If eligible, this funding provides round the clock support at home and in many cases is the difference between living a fulfilled life at home and living in a care home.
 Now, three Leicestershire Clinical Commissioning Groups (CCGs) – West Leicestershire CCG, Leicester City CCG and East Leicestershire and Rutland – (the organisations responsible for NHS funding in the area) – plan to limit what they are willing to pay for care at home to no more than 10% of the cost of the cheapest alternative care setting  ie a nursing or residential home.
In a move welcomed by local charities, West Leicestershire CCG and Leicester City have recently agreed to defer a decision pending a full impact assessment. However, at their last Board meeting, East Leicestershire and Rutland CCG voted to proceed and the "Settings of Care" policy will again be discussed at East Leicestershire and Rutland CCG Board meeting on 8 August.
The policy would mean that those with the greatest care needs could see the amount of care they receive reduced. For instance, someone paralysed from the neck down could be left on their own overnight, or even forced out of their home and into a residential home – a situation known as "warehousing".
 Sue Browning, Chief Executive Officer of Spinal Injuries Association, the leading body representing the views of spinal cord injured people said.
 "Cost cutting measures that break up families and send severely disabled people to live in residential care miles from their own home, is just plain wrong.

 "We're alarmed at the heavy handed attitude of local NHS authorities and concerned that not enough work has been done to understand the impact of these plans.

 "We believe that what the Leicestershire CCGs are trying to do is legally and procedurally flawed and certainly inhumane. If these proposals go ahead, some of Leicestershire's most seriously disabled residents might be forced to live hundreds of miles away, in care homes and not at home. Alarmingly, the Leicestershire CCGs have acknowledged that breaking up families might be a consequence of this policy and is not even to be treated as exceptional.

"We know that a person's care needs do not go away just because there is a reduction in funding. People forced to live with unsafe levels of care can go on to develop unnecessary and preventable complications. These will be passed to other, no doubt more expensive, parts of the NHS and local authorities for care and treatment."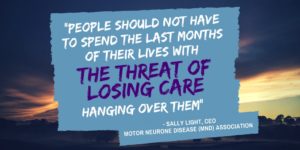 Chief Executive of the Motor Neurone Disease Association, Sally Light said.
"The funding proposals discussed by each CCG sought to limit patient choice of where they live and receive care on purely financial grounds. People with terminal illnesses like motor neurone disease (MND) may spend the last months or weeks of their lives with the threat of being moved into residential care hanging over them, creating unnecessary turmoil and worry for them and their families. We're calling on Leicestershire CCGs to rethink their plans and to undertake a detailed impact assessment to consider the consequences of their decisions on severely disabled people before any further steps are taken."
Steve Ford, Chief Executive of Parkinson's UK added:
"If implemented, these plans will be the latest in a long line of indignities local people with Parkinson's have to face. As well as being subjected to intimidating assessments and months of battling with this chaotic system to get the care they are entitled to, they are now facing the threat of being forced out of their homes – all while fighting a devastating degenerative condition.
"With significant cuts to social care and access to welfare benefits being restricted, these new proposals are even more harrowing.

"We strongly urge Leicestershire CCGs to reconsider their plans so that no one is left without the care they so desperately need."
Concerned patients and members of the public are encouraged to join major charities and local groups at the East Leicestershire CCG board meeting which will take a decision on the policy at 9.30am on 8 August at Leicestershire County Council's County Hall HERE.