A fantastic new Charity Partnership for SIA
We are thrilled to announce that from this September, Spinal Injuries Association have been chosen as the new charity partner of Libertatem Healthcare Group.
Established to provide care options for people who are recovering from significant personal injuries, or from medical negligence: the team at Libertatem have over 25 years' experience caring for spinal cord injured people and they really do care about making the world a better place for SCI people across the country.
With a name like Libertatem (Latin for 'independence'), we are hoping their awareness raising and fundraising efforts for SIA can go a long way to helping us reach our vision: a fulfilled, independent life for every SCI person!
As well as promoting a fantastic payroll giving opportunity for their colleagues to support SIA on a regular basis, the Libertatem team have also committed to taking on a whole range of challenges and fundraising events over the coming years, to support our work.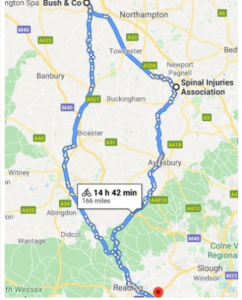 The first of these is taking the form of a 166 mile virtual cycle ride on Wednesday 16 September – starting at the Libertatem head office in Wokingham, travelling to our head office in Milton Keynes, and looping up to our partners SIA Case Management in Daventry… before completing the return leg!
Libertatem's entire head office team will be taking part in the challenge as a relay – completing six-mile legs at a time – and (after some recent calculations), they are planning a very early morning start.
So far, their team, have raised an amazing £1,175, which the senior team have pledged to match – doubling that fantastic total!
Such an amazing challenge is the perfect way to kick off what we hope will be a wonderful charity partnership over the coming months and years, and we are looking forward to working with the whole team at Libertatem on some wonderful collaborative projects.
Keep an eye on our social media pages for more updates this week, and we wish everyone at Libertatem the very best of luck with their cycling challenge!
Thank you for your support, and we are looking forward to working with you as official charity partners!