Will you help SIA to help you?
SIA needs your help! Can you support our campaigning activities by contacting your constituency MP and requesting a meeting?
That's what Barry Wells and Rob Page did, and the result was two tremendously successful meetings with their respective MPs. SIA's Dan Burden and Dave Bracher joined Barry in his meeting with Rob Butler MP in his Aylesbury constituency office, and Dave (on Rob's behalf) also met with Flick Drummond, the MP for Meon Valley, in Westminster.
Both MPs were very keen to hear about the issues that impact on SCI people, and what they can do to support SIA in our campaigning. To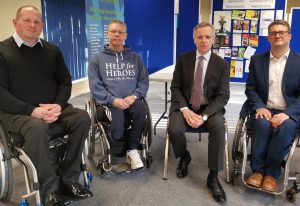 that end, Rob agreed to visit Stoke Mandeville Spinal Centre (which is in his constituency) to meet the staff and patients there and Flick will be writing to the Minister for Social Care about the issues with NHS Continuing Healthcare.  Both agreed to join the 'All Party Parliamentary Group on Spinal Cord Injury'.  
SIA wants to advance our campaigning goals by meeting with as many MPs as possible. Thanks to the help of several members, we have a number of meetings with MPs in the pipeline, where we'll be able to discuss our concerns about issues with healthcare, specialist rehab services and the range of issues that impact on people with a SCI.
Everyone has the right to meet with their constituency MP to discuss either personal or wider concerns, and as Barry and Rob have shown, the process to do so is very easy. It's in the MP's own interest to prioritise a meeting with their constituent (after all, they'll probably want to be re-elected in the future!) and having SIA in the room as well adds our experience in explaining the issues and how the MP can support the charity in the future.
So, will you help SIA to help you? Please email Dave Bracher on [email protected] to discuss the approach to take with your MP, and he will then send you a suggested letter template to use with your elected representative. Thank you for your help!