Injured footballer who broke his neck smashes 2.6 challenge
A huge thank you to all of our 18 supporters who have taken on the 2.6 challenge for SIA raising around £6,500 between them, with Gift Aid yet to be added. There's still time to taket part –   you can set up your own challenge until 3 May or you may wish to donate to support others like Chris Keogh who completed his challenge for SIA, Back Up and The Matt Hampson Foundation on Sunday.  Read his story below.
Chris Keogh completed a gruelling 26 laps of his flat's corridors to support the spinal cord injury charities that helped him when he broke his neck two years ago. 
Chris (29) from Epsom completed his incredible 2.6 challenge in just under eight hours on Sunday (26 April). Despite a life-changing injury that nearly paralysed him, the Relationship Manager for Pricewaterhouse Coopers (PwC) dug deep to walk 26 laps of the corridors in the flat he shares with his fiancée, Daisy, to raise more than £3,000 for SIA, Back Up and The Matt Hampson Foundation. 
Chris says: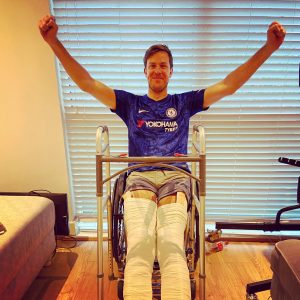 "The challenge was much harder than I thought it'd be. My right leg gave up on me quite early, my foot was dragging and I had to use a lot of arm power to swing it along with me. I nearly fell a few times but I'm incredibly lucky to have recovered the movement I have in my left leg and we had raised so much, I was determined to see it through. It wouldn't have been possible without the support of Daisy, who was with me every step of the way, literally." 
April 2020 marks the two-year anniversary of Chris' injury. And the lockdown-friendly version of the London marathon was the perfect warm up for his forthcoming walk down the aisle at the couple's wedding in September. It's also a chance for him to thank the three charities that he credits with helping him come this far with his rehabilitation.  
"SIA, Back Up and The Matt Hampson Foundation have offered life-changing support, not only for me but for my family as well. From using their wheelchair skills courses, personal and family mentoring support and rehabilitation/fitness guidance, they have enabled me to get my life back when I thought it was lost. I'm working again and at PwC we've been using our podcasting platform to promote disability on the diversity and inclusion agenda across UK companies. Just meeting Carl from SIA and talking to someone who has gone through what I've been experiencing has been so helpful to me in overcoming the obstacles wheelchair users face on a daily basis – the life hacks and guidance has been invaluable.  These charities do so much for so many affected by spinal cord injuries. We started with a target of £250 and the last time I looked at my fundraising page, we had hit just over £3,700. We had so many people sharing the challenge, the donations started to reach far and wide. Social media really helped, especially raising the awareness of each of the charities."  

Playing in what he describes as a 'typical Saturday league match' for AFC Ewell against Merton Social FC on 14 April 2018, Chris dislocated his neck in three places.  
 "I jumped up for a header like I have a million times and the next thing I am on the deck and my whole body has gone into pins and needles and I can't feel my lower half."

Doctors at St George's Hospital in Tooting, London, told him he was paralysed from the chest down and that it would be a miracle if he were to walk again. But after two years of intense rehabilitation, Chris can now take limited steps, with walking supports and aids, and feels confident about his challenge this weekend.  
Hugh Brasher, Co-Chair of MSO and Event Director of London Marathon Events believes that "right now, our vulnerable members of society need the help of charities more than ever before" – a sentiment echoed by SIA, who have redeployed their frontline teams to offer crucial information, advocacy and support remotely to people with spinal cord injury during the pandemic.  
Andrew Smart of SIA explains:
"We're working hard to keep SCI people safe, well and out of hospital. The impact of coronavirus can be life threatening to SCI people. Our teams of expert nurses, Support Officers – many spinal cord injured people themselves – are helping other paralysed people by phone, video call, virtual cafes and daily updates via web and social media. But it's only thanks to supporters like Chris that this work continues. His fundraising efforts mean we can continue to provide these crucial services during such difficult times."  
If you would like to sponsor Chris just visit his fundraising page.