Cycling Success for Team SIA!
A big thank you is in order for our amazing coast to coast cycle challenge team, who recently completed a mega 220-mile journey from Southport to Whitley Bay, raising over £22,000 in the process.
The team included colleagues from our partners SIA Case Management, and trusted financial partners Adroit, from SIA Business Members, Lime Solicitors, and our charity partners Vanquish Technologies. They took part alongside Gary Dawson and Dave Eastham from the SIA Support Network Team, and many other full SIA Members, and Family and Friend Members – with a nice mix of first-time riders and regulars making up a committed and enthusiastic group.
A last-minute replacement for our postponed trip to Tuscany, the trip was our first ever ride based in the UK, giving us the unique opportunity to raise funds and awareness, in the communities where we offer support to SCI people every day.
Dave Eastham, SIA's Support Network Coordinator for the Northwest, had the following to say:
Although the weather was pretty grim throughout, it was nonetheless a fun, and incredibly rewarding experience for the team, and some firm friendships were made throughout.
The money raised will greatly support our work, but even more important was the awareness that we raised, both online, and via the people we met throughout the trip.
The response the team were met with throughout the trip was overwhelmingly positive, with locals stopping to make donations and cheering us on all the way.
There was a very nervous wait on day one as several of our team were escorted into a lunch stop by a police car: but instead of ending the day in handcuffs, they were simply amazed by seeing our team climbing the local hills in torrential rain, and wanted to find out more about SIA. They were even kind enough to pose for some photos to share on their social media feeds – and gave us a shoutout encouraging their colleagues and followers to make some donations.
We are so proud of the whole team, not just for finishing the ride, but for acting as such excellent ambassadors for SIA throughout – their efforts really will make a massive difference.
Thank you again for all your hard work and support, and we look forward to seeing you all again in Tuscany next year!
What some of the riders had to say: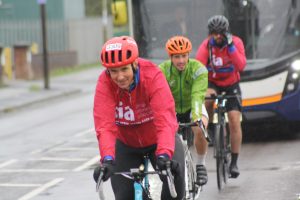 "I like a bit of a challenge, and saw this as a great way to get back into cycling longer distances, whilst also being a great way to raise money for our charity partners.
I wasn't really sure what to expect with it being my first time participating in the event, but I am proud to have completed the distance and I really enjoyed the whole experience.
It was superbly organised, and the catering was fantastic; I don't think I've eaten so well whilst cycling before, so much so I think I've actually gained a few pounds!  
I was really impressed with the various hand cycles being used in the event and just how fast some of these were when their owners went for it. Cycling 220 miles is quite an accomplishment but doing it on a hand cycle is so much more impressive.  It was also enlightening with regards to the daily challenges wheelchair using face and how they overcome these with such determination and resilience.
I'm glad I did it, a great trip with many good memories, and I'm sure I'll have a go at another one very soon"!
Mark Roberts, Finance Director at SIA Case Management
"Thanks to all the team at the SIA for organising such a brilliant challenge. I've never done anything like this before. The support and camaraderie throughout turned a very long, very wet and gruelling evet into brilliant fun. I've met some great new friends and look forward to making many more great memories with Team SIA, continuing to raise more much needed funds for this brilliant organisation".
Paul Rosson, Principal Financial Consultant at SIA's Trusted Partners, Adroit.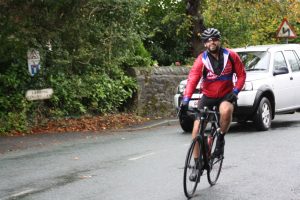 "Thank you to each of the people that sponsored me and my fellow riders for the coast-to-coast SIA challenge for their generosity. Raising £22,000 for the charity is amazing, and I know the services that SIA provide to their members is invaluable.
The Spinal Injuries Association has been part of my life ever since I can remember. My mother sustained her injury when she was 13, and later went on to work for SIA, providing first-hand experience and guidance to others that have had their lives turned upside down in an instant.
This support is so critical, and I know funds raised at events like this help to sustain those services, so it felt great to be a part of it. I had an amazing time – despite the constant rainy weather – and I met some wonderful people, and made great memories along the way.
I am excited for next year's event in Tuscany in May where I hope to see many new faces join us for this remarkable experience (along with some old friends too)"!
Simeon Taylor, CEO of SIA's Charity Partners, Vanquish Technologies