Paris Marathon
Congratulations to Team SIA who ventured to France to take on the 26.2 miles of the Paris Marathon – fundraising to support our work with spinal cord injured people and their families. So far, our 2019 participants have raised over £5,090 with sponsorship still coming in. Come and meet the team and find out why they ventured to Paris to support SCI people in living a fulfilled life.
SIA member Jason, signed up to take part in Paris after seeing his friend and fellow member, Ben take on Berlin in his chair last year. During Jason's training, he reached distances of 31 miles over one weekend and worked closely with Ben at his gym to make sure he was race ready. Thank you to Jason's family for hosting a bake sale fundraising event with a personalised marathon cake, which raised over £500 alone.
James decided he wanted to challenge himself and support his friend Jason. Together James and Jason have raised over a whopping £3000!
"Thanks for all your support and help and giving me the opportunity to take part in such a great event. It was fantastic to celebrate my daughter's birthday with a meal that evening and the next day we took some time to have a fun filled day in Disney."
https://www.justgiving.com/fundraising/jason-miller14
Peter celebrated his 30th birthday in style and shared the occasion with SIA as he took on the Paris Marathon in memory of his friend Mark. Last year, Mark sustained a spinal cord injury and lost his life after a fatal accident.
"If Mark had survived his fall he would have needed help from organisations like SIA so I am trying to raise money to help other people who have had similar accidents and may need the support of charities like SIA."
https://www.justgiving.com/fundraising/peter-clifford6
SIA Campaigns Manager and staff member, Dave decided he wanted to work towards a personal goal for 2019 and was successful in his application for a place in the Paris Marathon. As well as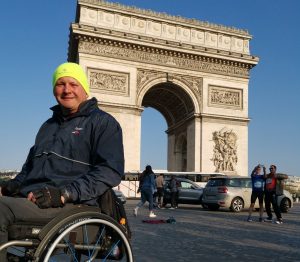 taking on the dedication of training for a marathon in his chair, he decided to use his place to raise awareness of SIA alongside his role campaigning for the rights of SCI people within the UK.
"It really was a brilliant day, so relaxed and the route was beautiful. Well worth travelling for an overall excellent experience with the whole family."
Thank you to each and every one of our fundraisers and the kind colleagues, family members and friends who sponsored them with motivating messages. We are thrilled to be able to support people as they try something different or set themselves a new challenge, sometimes even ticking off experiences from their bucket list.
If you would like to use your event ballot place to support our work then tell us about your event here.  Not quite sure what you want to try, let us show you your next adventure.