Ben Tansley - from injury to going home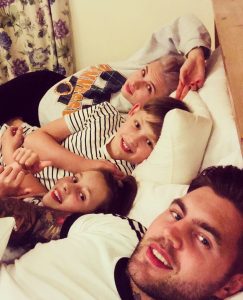 SIA member and fundraiser Ben was injured just under two years ago, on a Sunday afternoon during a motorbike ride through Norfolk with his family.
They had been out for the afternoon in the sunshine, when a car hit Ben and his son's bike and threw Ben from the bike. Ben says he knew instantly something wasn't right, as he couldn't move his legs.
He sustained a T4 spinal cord injury.
Not long after his injury, Ben was visited by one of Spinal Injuries Association's Peer Support Officer in his local hospital. They answered an array of questions Ben and his family had about his injury and what life was going to be like. Ben then went on to receive a couple of support calls shortly after coming out of hospital, and signed himself up to SIA Healthcare so all his continence care and medication would be delivered to his home.
Around the time of Ben's accident, he was in the process of buying a house with his girlfriend. However whilst in hospital realized the new house was not accessible and pulled out of the sale. They were left homeless….
After Ben had finished months of rehabilitation they moved in to Ben's girlfriend's parents' home, which had a downstairs shower big enough for a shower chair.
They also converted the dining room into a bedroom for Ben. It was a tough few months, and Ben was lucky he had the support of family and friends around him to provide accessible housing instantly.
Ben says it was also one of the best ways to bond with his girlfriend's parents and they supported him from day one. However, this didn't solve the problem of getting their own home….
After months of searching, Ben and his girlfriend purchased their first bungalow. They moved in recently and although not perfect, the home is adaptable, accessible and in a great location. Ben loves being surrounded by fields and the sky at night is the clearest you will see. He loves sitting outside in his garden and looking at the stars!
He also now has a home for him and his young children, who have also been amazing throughout the entire process, from injury to moving home. Ben is so thankful for the support SIA provided in those early days, and the love his family and friends have provided him throughout the whole process.
When we asked Ben what 'home' means he said, "A family place where if you sit and listen all you can hear is the sound of children laughing!"
Ben says "There is an amazing life after spinal cord injury and the best thing you can do is not shy away from anything, because you can spend so much time worrying about a situation and nothing's ever as bad as it seems. Everything happens for a reason, so get busy living!"