Only a sail away | David Durston #Paralympics
Words by David Durston
If you're looking for sailing at the Tokyo Paralympics, it's not there.
Unfortunately it was dropped after Rio, and it is not being reintroduced for the 2024 games.  This is a great shame because it is the most inclusive sport that I am aware of.
No matter what level your injury is, the equipment available enables you to compete on level terms, even against the able bodied.
SKUD 18 racing at the London 2012 Paralympics © IFDS
Despite not being in the Paralympics there are still other opportunities to compete internationally, or even just at your local sailing club.
If racing doesn't interest you, then just enjoy sailing in a beautiful setting with your friends or family.
But how can I sail I hear you ask?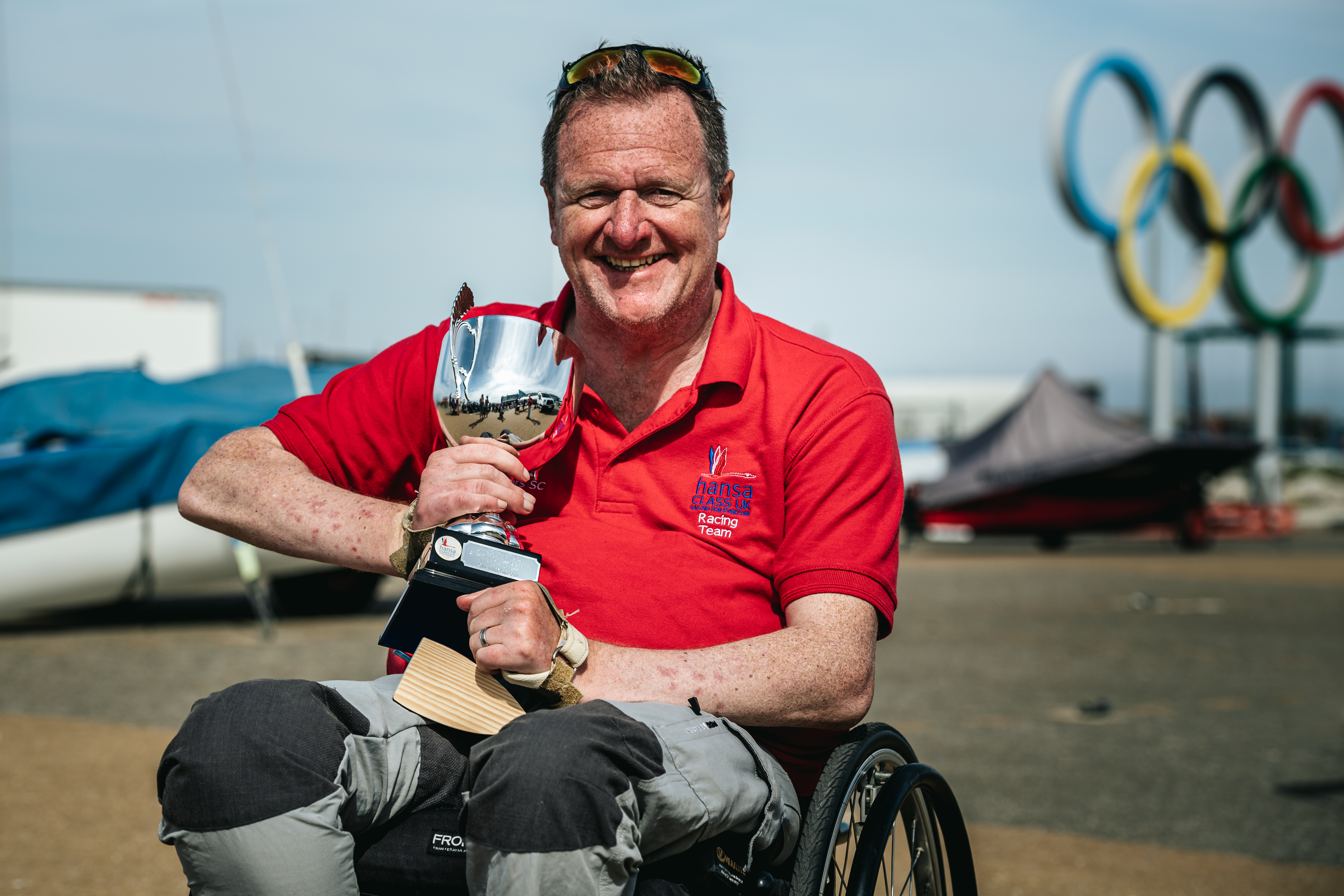 It's all in the equipment.  There are many different classes of boats available, some requiring a greater level of physicality than others.  For people with mobility problems there are several classes which don't require the sailor to move around the boat eg the Challenger, RS Venture Connect, 2.4, and several Hansa models.
As a C5/6 complete tetraplegic, I sail a Hansa Liberty which has a heavy keel and high sides to prevent it from capsizing.
Because I have no trunk control, the centrally mounted seat has lateral supports to prevent me from falling over as the boat leans.  I have no hand function and limited arm movement, so I have motors fitted to control the sails, and if necessary I could also have one fitted to control the rudders (steering).
These are operated using joysticks which are strapped to my chest, but other people have other controls which better suit their needs.
Some even sail independently and are competitive using blow-suck controls.
It's great to hoist into my boat and leave my chair and worries behind.  When I'm racing I'm completely focussed on what I'm doing and the pain goes away.
Click here to see how it works: Vimeo and YouTube.
Racing
The boats and the class rules make it fair.  The Liberty for example has a single seat and narrow cabin so nobody can gain advantage by moving their weight side to side.
The class rules mean that the sailor must remain seated, preventing weight being shifted forwards.
Provided that the equipment enables the sails to be managed as quickly as they can manually, there is no disadvantage and fleet racing is fair.
The Hansa Class is open to all, even at the World Championship level.  World Sailing are including the Hansa 303, Liberty, and the two person RS Venture in their events alongside the able-bodied Olympic classes.
At a club level it's possible to take part in handicapped races alongside different classes of boat.  Every boat has a Portsmouth Yardstick (PY) which adjusts your race time according to the boat's expected performance.
This means that disabled people can be fully included in sailing club activities.
If you'd like to get involved contact David at: [email protected]