Job searching on a level playing field
Jane Hatton, explains how she set up the not-for-profit Evenbreak, to help disabled people find job opportunities with inclusive employers in the UK.
In 2011, I decided to try to address some of the issues around disability and employment that I had become aware of over the years.
As an employer, I had employed a number of disabled people and knew first-hand the value they brought with them. As a diversity consultan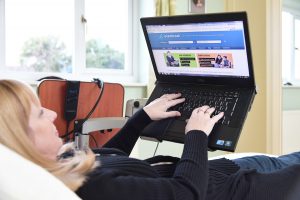 t I had heard from many employers who were put off by the 'risks' they perceived that employing disabled people involved, and from a few employers who understood the benefits of inclusion but struggled to attract disabled applicants. Disabled jobseekers told me that they were sick of being rejected by recruiters the minute they mentioned their disabilities. And as a disabled person myself, I knew how important being valued in the world of work was to me.
Having seen this from all angles (mostly from lying down, as my degenerative spinal condition prevents me from sitting at a desk), I wanted to find a way to help disabled candidates identify vacancies from employers that would value and nurture their skills. I wanted those enlightened and inclusive employers to be able to tap into this pool of talent. And I wanted to educate other employers that employing disabled people wasn't an act of charity, but a wise business decision. From this, the idea for Evenbreak was formed.
Evenbreak addresses all these issues. Put simply, it is an accessible online job board where disabled candidates can look for jobs with inclusive employers, and inclusive employers can attract disabled candidates to their jobs. Candidates have the confidence that those employers who have paid to advertise their vacancies on a site purely aimed at disabled people are more likely to take them seriously. Inclusive employers can be confident that a site that does all the attraction strategies for them can find a pool of talented disabled people all in the same place. As a social enterprise, all surplus income funds activities raising awareness of the benefits of employing disabled people and sharing expertise in inclusion and accessibility.
It was important that Evenbreak lived all the values it espoused. Definitely not a charity (our candidates aren't 'objects of charity', they are talented people seeking employment), but not an opportunity to profit from the discrimination faced by disabled people either. A social enterprise (holders of the Social Enterprise Mark) was the ideal business model. A commercial enterprise, trading like any other business, but with a social purpose and profits being ploughed back in.
All of the Evenbreak team (directors and employees) are disabled people, and all are paid above the Living Wage. We wanted to demonstrate that a business can be financially sustainable and successful whilst also being ethical and inclusive.
Our candidates are a wonderfully diverse group of people with a wealth of different talents and abilities. Many are people like me, who have acquired a disability in childhood or adulthood. People who have a variety of education and work histories, experiences and qualifications. Some may be looking for their first job, others will be looking to re-join the labour market after a break. And others may be looking for new careers after their previous jobs became inaccessible.
To reflect this diversity, the roles on Evenbreak are equally diverse. Geographically we cover the whole of the UK. All sectors are covered, including hospitality, retail, engineering, science, public sector, finance and  many others. Jobs range from entry- level to director-level and everything in between. Employers as diverse as John Lewis, Channel 4, Unilever, Heathrow, Ricoh and many, many more have advertised on Evenbreak.
If you are disabled and looking for work with an employer who will value your skills and accommodate your disability, come and search for jobs on Evenbreak (www.evenbreak.co.uk) – we'd love to see you there!
This post first appeared as an article in the February 2020 issue of FORWARD magazine.  More information about FORWARD.