SIA Healthcare - new team member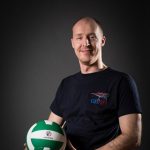 We're delighted that Gavin Walker has joined the SIA Healthcare team as our new outreach relationship manager. We met up with him and got to know him over five revealing questions.
What are your goals in this new role?
First of all, it's to get to grips with what's expected of me and look to maintain the great work that's already been done here.
Secondly, as a user of SIA Healthcare myself, I am very aware of the confidence people get from the trustworthy and reliable service we provide. I want to see where we can expand our reach so more people are aware of the benefits, and to make the transition to SIA Healthcare as easy as possible for those people.
Do you have any words of wisdom for a new SCI patient coming out of hospital?
Don't rush into anything, particularly when looking to buy equipment. You're in such an early stage of your rehabilitation that the item may not be necessary or, after a bit of research, you may find there is something more suitable for you out there.
Set yourself small achievable goals that push you out of your comfort zone. This is where you will make the most progress and learn about your new capabilities.
You co-captained the gold medal-winning wheelchair rugby team at the 2020 Paralympics. Were you interested in rugby before your injury?
Funnily enough, sport was never a big part of my life. Sport and wheelchair rugby was introduced to me to help regain my strength and fitness after my injury. Little did I know that the biggest benefit to me was the help it gave me mentally. Being around like-minded people, people who had suffered a similar injury to me, picking their brains about all aspects of this new life – it was all hugely beneficial to my mental health.
As a result of your victory in Tokyo, you were awarded the 'Freedom of the Borough of Rotherham'. What has the reaction been at home since returning from Japan?
The reaction I've had since returning home has been phenomenal and receiving both this award and my MBE has been a massive honour. A Gold medal at the Paralympics is difficult to attain and takes years of dedication, it is something you think about and train for a lot in advance of it happening. The other awards however were a real surprise. The Freedom of the Borough was awarded to me by the people who supported me when I needed them the most, so it feels very special.
If you had your time again, would you choose to have never had a spinal cord injury?
This is a tough question. Having a spinal cord injury is such a dramatic change to anyone's life and gives you challenges you never even imagined. In the short time I've been injured (12 years), I've been lucky enough to have experienced and achieved things I would never have done before my accident. I wouldn't choose this life, no, but I'm going to be the best I can be for me