Introducing our new ambassadors
We are pleased to announce today Jonathan Goodwin and Amanda Abbington are joining our team of ambassadors.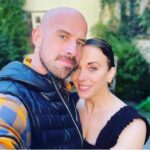 Jonathan and his fiancé the actress Amanda Abbington have been huge supporters of our work over the past few months.
Jonathan has performed as an escapologist and daredevil on every continent except Antarctica and in every US State except Alaska and was seen on British television in the final of Britain's Got Talent in 2019.
In 2021 Jonathan was involved in an accident while rehearsing a stunt for American TV. The accident left Jonathan with multiple injuries including spinal cord injury.  Now retired from stunt performing he has turned his attention to writing, presenting, hypnotherapy and being a roll model (pun intended) for everyone.
Amanda is an actress who is a familiar face on stage, screen and movies and is probably best known for her roles in BBC TV's 'Sherlock' and ITV's 'Mr Selfridge'.  She met Jonathan prior to his accident and the couple believe the whole experience, although traumatic at the time, has brought them even closer together.
Jonathan believes the accident would have been far more devastating without his partner by his side, he said:
"We really wanted to help this amazing charity that is close to our hearts and have over the past few months come to know more about the vital support they give so many.  Too many people with spinal cord injuries aren't able to access the specialist care they require leading to multiple physical problems and serious mental health consequences…. this can't be right. Taking on the role of ambassadors, we are both committed to raising the profile of this charity to help them achieve their vision of a fulfilled life for everyone affected by spinal cord injury."
Amanda said:
"When we visited the charity, we met Mandy one of their case workers and were shocked to learn that for some, essential continuing healthcare which many rely on can be suddenly re-assessed and eligibility withdrawn.  A condition like spinal cord injury is unlikely to ever improve and being told this essential care could be removed brings a huge amount of stress and worry for that person and their family.  Without SIA, many of these people would have nowhere to turn. We want to help this charity reach and support more people than ever before".
Our Chief Executive Officer, Nik Hartley OBE said:
"Jonathan and Amanda's commitment, energy and strong desire to highlight the many injustices that people with spinal cord injury are facing up and down the country will be a huge asset to our work at SIA. They bring their own understanding of living with spinal cord injury along with an empathy and understanding of the many concerns that people with spinal cord injury must face on a day-to-day basis. We are thrilled to be working with them and to make them a part of the exciting plans we have for the future."