Karen Darke - Quest 79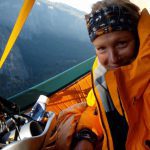 SIA Ambassador Karen Darke urges support for Spinal Injuries Association – "There's an adventure in all of us."
Globetrotting SIA Ambassador, Karen Darke MBE is a gold medal winning para-athlete (handcycling) and adventurer. Since being injured in a climbing accident aged 21 in 1993, Karen has become a full time athlete with the British Para-Cycling Team. As a handcyclist, she was a silver-medallist in the London 2012 Paralympics and became Paralympic Champion in Rio 2016 Paralympics.
Karen has now embarked on Quest 79. Through this  series of gruelling global adventures she aims to increase  awareness of the possibilities of life after spinal cord injury and to raise funds to support SIA's work.  This incredible quest will include
The Express Way.  Arm-powered land speed record attempt at Battle Mountain and 3,000 km from Canada to Mexico.

 

The Water Way. 2,500 km following Australia's water lifeline, the Murray River, from source to sea.

The Sacred Way. 1,500 km following the River Ganges from its Himalayan source to its sacred heart.

The Hot Way. 1,250km of Africa to the Cape Town Cycle Tour, the world's biggest open bike race.

The Continental Way. 1,250 km along the Atlantic Coastal Trail from the UK to Spain.

The Cold Way. A journey of unknown scale across the ice of Antarctica.

The Spirit in Motion Way. 10,000 km of riding the world and 20km at the Tokyo 2020 Paralympic Games.
As SIA Ambassador, Karen is leading #TeamSIA – our band of intrepid challenge enthusiasts. With Karen, we're encouraging people to organise their own adventure to raise funds to help spinal cord injured people lead fulfilled lives. So, whether you run, walk, swim, push, pedal or jump, we've a challenge for you. And if we haven't we'll help you every step of the way in organising your own.
Said Karen. "Whether you like your adventures large or small, there is always something for you. And of course you get to try new things, meet new people and have fun. So that thing you've always wanted to do? Why not do it for Spinal Injuries Association – run, jump, swim, pedal or push your way to raising funds to support spinal cord injured people."
If Karen's words have inspired you just click here and pick your own adventure to support SIA.
Follow Karen's adventures on: 
Instagram @karendarke
Facebook www.facebook.com/karenquest79/
Twitter @kdarke