Grandad Wheels' latest adventure!
We are delighted to announce the second book in the Grandad Wheels series, 'Chaos at Cheapfoods', launched on 12th November 2020!
When Charlie sees his Grandad finding it hard to push his wheelchair, he decides to help.  But maybe watching a YouTube video about building a rocket with a  fire extinguisher wasn't the best preparation!   The mayhem that follows will be remembered for a very long time by shoppers at Cheapfoods!  And Granny – if she ever thaws out!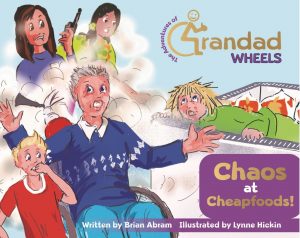 'The Adventures of Grandad Wheels' are a light-hearted series of children's books, about the crazy adventures of an SCI grandad, his grandson Charlie, and a whole host of other colourful characters. Each story delves into the everyday experiences of life as a wheelchair user, but more importantly, makes the readers laugh out loud at the silly adventures of the main characters.
The books have been written by SIA Member Brian Abram, who wanted to show that anyone in a wheelchair, whatever their age, can still have fun, and live a fulfilled life.
Sales of the first book  have raised over £7000 for SIA and Back Up so far!
In the first book 'Charlie's Big Idea!' Charlie realises his Grandad is a bit bored, so he decides to arrange something exciting to cheer him up. It's been a huge success with children around the country, as have Brian's visits to schools to promote the book.
"Ruby absolutely loves the book, both the story and the illustrations (and finding the tennis balls!). She has insisted that we read it every night since we got it, and is so impressed with the fact that it has been signed by "the lady who drew the pictures". She loves it so much that she took it into school today for World Book Day as she wanted to share her "extra-special" book with all of her class-mates.'" – Nina Martin
Every penny raised from the sale of Grandad Wheels' books goes to two charities close to the author's heart, SIA and Back Up. This is possible due to the generosity of their sponsors. 
To order your copy and help support SIA visit the Grandad Wheels website
Buy both books together before 30th November 2020 and get £1.00 off each book -just enter code LAUNCH at the checkout!