Your support network in Fermanagh
Gary Dawson
Tel: 07964 457985 or 01908 732155
Hi I'm Gary, your support coordinator.
I was injured in 2003 after a motorcycle accident – resulting in a T6 complete spinal cord injury. Since then I've become a case officer helping to support people like you. Believe me, life after injury doesn't just stop (I didn't!)
If you've recently become injured, already living with a spinal cord injury, or are close to someone who is, you're in the right place.
Book an appointment with me here and I can refer you to the most suitable services available locally and nationally and offer my insight and experience into life with a spinal cord injury.
Just choose an available slot below and I look forward to speaking with you soon.
Book a support session
Need more information
Just click below to download our support guide for your region.
Download a guide
We have a network of support partners available in your area
We've split these across three key areas:
Body Matters
Understanding the changes to our bodies after spinal cord injury is an essential part of the healing journey. Armed with the right information about the physical changes you can expect after injury, you can rebuild a life that is rich and fulfilling.
Mind Matters
The physical changes that come with a spinal cord injury are only part of the puzzle – recognising what happens in our minds is equally important to rebuilding a fulfilling life. Read on to learn more about everything from mental health and self-image to relationships and isolation.

Life Matters
A spinal cord injury can mean that life changes quite dramatically – that's not to say this has to be negative. Life does go on, and with a solid understanding of how to navigate this new experience, there can be many joyous times ahead.
Body Matters partners
Everyone has the right to be referred to their local spinal cord injuries centre for an appointment with a spinal…
Click for more info
The Neurokinex programme for spinal cord injury is one of the leading activity-based rehabilitation programmes in the UK
Click for more info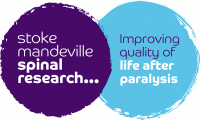 Stoke Mandeville Spinal Research: funding cutting edge medical research for life after paralysis
Click for more info
Mind Matters partners
Breathe and Recover is based on the Living Yoga Method ™ . We use the power of breathwork and yoga…
Click for more info
Life Matters partners