Get Outdoors with Experience Community
Experience Community is a not-for-profit Community Interest Company based in Slaithwaite, Huddersfield, that helps disabled people and the wider community access the countryside through short taster sessions, longer rambles/rides and residential breaks using specialist equipment such as Mountain Trikes and Mountain Bike hand cycles/adapted cycles.
We run regular taster and training sessions so that people can build up their skills, strength, and confidence with the equipment and they can then come out on longer rambles/rides with us. In the last few years, we have run Mountain Trike rambles and Hand Cycle rides in the Peak District, the Pennine Hills, at National Trust & RSPB sites and the Yorkshire Dales in addition to organising residential trips to Kielder Forest in Northumberland, the Yorkshire Dales, and the Peak District. In 2020 we will be running cycling and rambling residential trips to Aviemore in Scotland, as well as Keswick and the Yorkshire Dales.
Additionally, we have a licence to manage a small, council-owned woodland in Marsden, Kirklees – Tunnel End Woodland – where we have carried out small-scale access improvements so that disabled people can now easily get into the woods. We'll be working with Yorkshire Wildlife Trust to continue to maintain this woodland.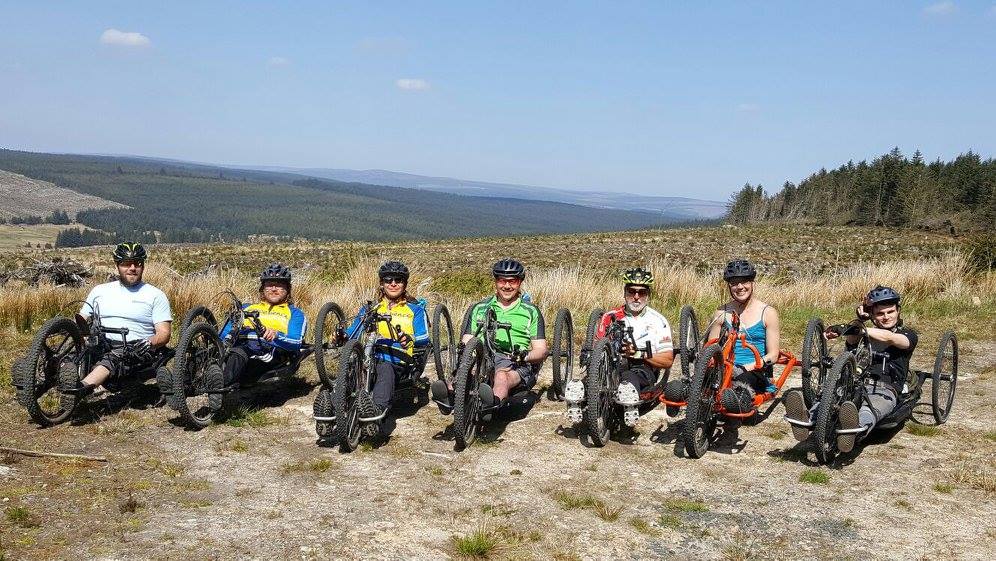 Campaigning regionally for improved access to the countryside for people with disabilities helps to inform policy at a strategic level. We are currently working in partnership with the RSPB, Yorkshire Dales National Park, The National Trust, The Woodland Trust, Yorkshire Water, Yorkshire Wildlife Trust and have done some work with English Heritage. We will have a presence at Keswick Mountain Festival in May, where we will be promoting our work and the partnerships we have with different companies who design and build adapted equipment.
We run drop-in sessions every Tuesday from our offices in Slaithwaite, and organise monthly taster sessions at several locations across our region: Pugney's Country Park, Wakefield (just off the M1) on the first Thursday of each month 11am-3pm; Rother Valley Country Park, Sheffield (just off the M1) on the third Thursday of each month; and in 2020 we will be running taster sessions from Bradford. All events and taster sessions can be found on our Eventbrite page.
At our taster sessions and open days we have Mountain Trikes and adapted cycles for people to try. There are various types – a hand cycle mountain bike, KMX Kart and Top End Excelerator upright trike.  We are also increasing the number of e-assist trikes and bikes we have for people to try – such as Ice Trikes, XCR and Wolturnus off-road bikes. These enable longer rides as the uphill is a lot easier!
Our taster sessions and guided rambles and rides support local schemes encouraging disabled people to be more active such as Cycling UK's Big Bike Revival. They also fit with national strategies around enabling disabled people into Britain's countryside as detailed in the Government publication 'A Green Future: Our 25 Year Plan to Improve the Environment'.
Our work brings people together and builds strong relationships in and across communities.  Most people we work with have had accidents or have conditions which mean that they have to use a wheelchair. For many people this is life-changing and can mean they are unable to continue with activities they enjoy and don't always have the confidence to get around independently using a wheelchair – all of which can lead to social isolation. We help to challenge, inspire and encourage people to get back out and about in the countryside!
If you have any questions then please get in touch via [email protected] or [email protected]